[bsa_pro_ad_space id=4]
July 10, 2012 – In a cyclopean project the Australian Perth Mint produced a one tonne gold coin, the world's largest ever coin. Now this product has been recognised by the Guinness Book of Records as the largest coin in the world and will enter the next 2013 edition of the book.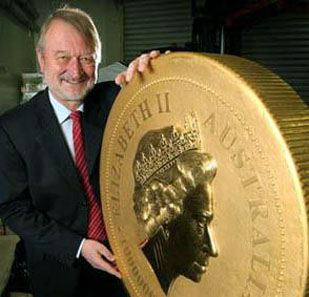 Ed Harbuz, CEO of The Perth Mint, stands beside the massive 1 Tonne Australian Gold Kangaroo Coin.
Earlier this year the mint presented the coin that weighs 1,012 kilo measuring 80 cm wide and 13 cm deep. The coin features the traditional symbol of the Australian bullion coins, the kangaroo. It is made of 9999 gold and has thus a current metal value of more than $51 million. Even though this is quite a big sum at The Perth Mint they are not sure whether the coin will remain forever where it is still on display at The Perth Mint's Gold Exhibition.
"The Perth Mint would consider selling it to an interested party at the right price," Makeila Ellis, spokeswoman of the mint, told CNBC. "This would include the spot price of the metal value, plus a significant premium for production. Terms would obviously need to be negotiated."
You can read an article on this topic here.
The Perth Mint dedicated a whole website to this one tonne bullion coin. You can find lots of images and videos illustrating not only the final coin but also the complex production process. Click here.
For more information on The Perth Mint, please visit its website.