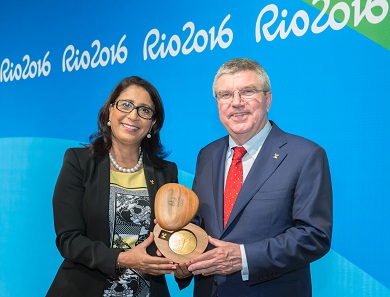 [bsa_pro_ad_space id=4]
August 4, 2016 – On 5 August 2016 the Olympic Summer Games 2016 are going to start in Rio de Janeiro. Now the organisers have presented the winner medals revealing not only the design but also interesting details on the materials.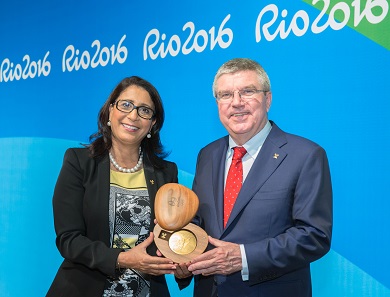 The new Olympic and Paralympic medals were presented to the public in Barra Olympic Park by Nawal El Moutawakel, IOC Member (MAR) and President of the Rio 2016 Coordination Commission and Thomas Bach, IOC President. Photo: © 2016 / Comité International Olympique (CIO) / Ian Jones.
In 2016 2,488 medals will be given to the Rio 2016 winners: 812 gold, 812 silver and 864 bronze medals. But this year the medals are not only worthy prize symbols but they match also sustainability criterias.
The gold medals are made of gold extracted without the use of mercury. The silver medals' raw material comes from recycled raw silver at 92.5 per cent purity, provening from X-ray plates, leftover mirrors, and waste solders. 40 per cent of the bronze used for the third-place finishers' prizes comes from waste material in the Mint. And even the plastic ribbons are made of 50 per cent recycled PET!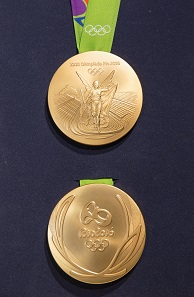 This is the design of the Rio 2016 winner medals. Photo: Photo: © 2016 / Comité International Olympique (CIO) / Ian Jones.
Of course, as always, the ancient symbol of the winners, the laurel wreath, is included in the design, surrounding the Rio 2016 logo on the obverse. According to tradition the reverse shows Nike, the ancient Greeks' goddess of victory with the Panathinaiko Stadium and the Acropolis in the background, reminding of the beginning of modern Olympic Games in Athens in 1896.
On the edge the name of the event for which the medal was given is engraved by laser. And, another new detail, the medals are slightly thicker in the middle than along the edge. The medals are hosted in wooden cases.
Additionally, the medals for the winners in the Paralympic Games feature a device making a noice when shaken in order to inform visually impaired athletes about what kind of medal they are holding.
For collectors the Brazilian Mint issues commemorative medals too. Click here to visit the Brazilian Mint's website.
This is the official website of Rio 2016.