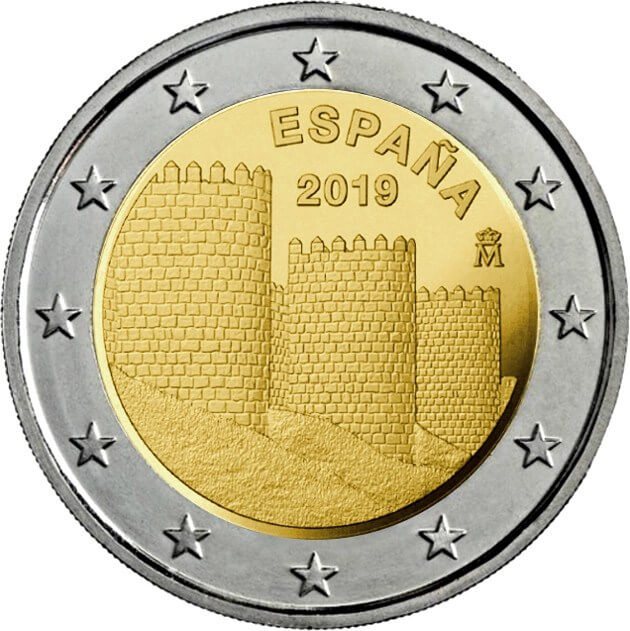 [bsa_pro_ad_space id=4]
In 2010 the Spanish Royal Mint started a series of 2-euro commemorative coins dedicated to the Spanish sites in the UNESCO's World Heritage List. The first nine coins were dedicated to the historic centre of Cordoba, to the Alhambra, Generalife and Albaicínin Granada, to the Cathedral of Burgos, to the Monastery of El Escorial, to the 'Works of Gaudi', to the Altamira Cave, to the Aqueduct of Segovia, to the Church of Santa María del Naranco and to the Old Town of Santiago de Compostela.
The 2019 issue is dedicated to the Old Town of Ávila with its Extra-Muros Churches. It was founded in the 11th century to protect the Spanish territories from the Moors. It is called the 'City of Saints and Stones'. It was the birthplace of St Teresa. It has kept its medieval austerity. This purity of form can still be seen in the Gothic cathedral and the walls which, with their 82 semicircular towers and nine gates, are the most complete in Spain.
The coin is included in BU quality in the 2019 Euro Circulation Coin Sets and in proof quality in both the 2019 Proof Set and the special blister pack that is limited to 7,500 pieces.
More information is available on the Real Casa de la Moneda website.
To learn more about this World Heritage Site, visit the official UNESCO website.
CoinsWeekly published the news on the release of the "Works of Gaudi" coin in 2014.
If you enjoy reading about Spanish history and numismatics, we recommend you take a look at our numismatic travel diary of northern Spain and southern Spain.