[bsa_pro_ad_space id=4]
The manufacturing companies Rand Refinery and South African Mint have launched an official Krugerrand website in English and German.
From now on, this homepage provides private investors and other interested parties with detailed information, for example on the various weight sizes and precious metal variants of the Krugerrand. The focus is on explanations of the special features of the embossing motif, technical details of the bullion coin, its history and current news.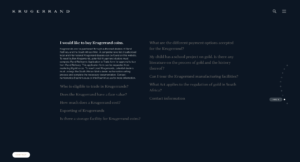 Buyers can also access a list and contact details of the official Krugerrand dealers in the individual sales markets and can also make a safe decision on the most important buying criteria with the information available in an FAQ area.
Another highlight is the picture gallery, which shows exclusive insights into the complete manufacturing process. In addition to impressive illustrations of the gold melting process, the production of the blanks or the stamping itself, visitors will also find pictures of the fine silver Krugerrand which was first launched last year.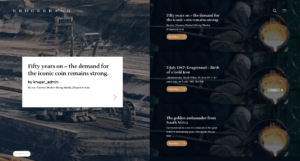 Other background materials available in the press section include the company's press releases, selected media reports, press photos and videos. Visually designed in elegant black and gold, the website can be easily navigated up and down through the various menu items with the help of the so-called "single page vertical scrolling".
This link will take you to the new Krugerrand website.
If you want to learn more about the Krugerrand, we recommend you check out this CoinsWeekly article.
This CoinsWeekly article will tell you more about the historical connection between Germany and South Africa.