[bsa_pro_ad_space id=4]
Occasion For Collectors: Steve Album's Auction 40
Strong bidding was seen at Stephen Album Rare Coins' Auction 40, which was held 13th-15th May 2021 at their offices in Santa Rosa, California. The total price realized was $1.56 million (including buyer's fees) on an estimate of $1.1 million. The sell through rate was more than 96% in the floor sessions. The firm set yet another company record number of internet bidders participating in the sale, and trend which started in 2020 as more coin enthusiasts took to the internet to satisfy their coin buying needs.
A few highlights from the auction follow (prices without buyer's fees):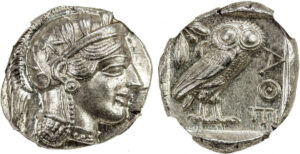 Lot 1: Ancients. Athens. Tetradrachm, c. 440-404 BC. Helmeted bust of Athena right / Owl standing right with head facing, AQE before, olive spray and crescent behind, a gorgeous coin displaying masterful die work and fantastic eye appeal, Strike: 5/5, Surface: 5/5, Star designation, NGC graded Mint State*. Estimated at $800-1,200. Sold for $2,800.
Lot 606: Islamic. Giray Khans (Crimea). Shahin Giray (1777-1783). 60 para (altmishlik, rouble), Baghcha-Saray, AH1191 year 5. 3rd monetary series; standard obverse, toughra reverse, with a floral sprig left & right, each with a flower, lightly cleaned, oblique reeding, lovely Very fine-Extremely fine. RR. Ex Dick Nauta Collection, acquired from Steve Album in 1986. Estimated at $2,800-3,250. Sold for $9,500.
Lot 915: India. Mughal. Jahangir (1605-1628). Rupee, Kashmir, AH102(9) year 15 (1620). Zodiac type (Gemini), struck in the month of Khurdad (May 22-June 21). Twins embracing, radiate sun in background / Jahan faroz gasht ba-kashmir sikkah-i-zar, za naam-i-jahangir shah shah akbar (In Kashmir, the gold coin has become world-illuminating, by the light of the name of Shah Jahangir [the son of] Shah Akbar); edge repaired, PCGS graded Very fine details. Estimated at $3,000-5,000. Sold for $5,500.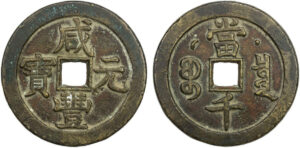 Lot 1083: China. Qing. Xian Feng (1851-1861). 1000 cash, Board of Revenue mint, Peking. Prince Qing Hui mint, sun & moon mintmark, cast May-August 1854, brass (huáng tóng) color, a very attractive example! Very fine, ex Karl Adolphson Collection. Estimated at $500-700. Sold for $16,000.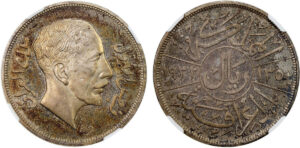 Lot 1362: World. Iraq. Faisal I (1921-1933) AR riyal, 1932/AH1350. Finest known example, proof condition, luxurious golden toning on both sides, from an estimated 20 pieces struck as proofs, NGC graded Proof 66. Estimated at $10,000-15,000. Sold for $20,000.
Lot 1800: World. United States. AR ingot (158.69g), issued by the Nevada Silver Co., stamped 999 FINE / 5.09 OZS. / VAL. $6.56 on obverse, with the serial number 266 at the top, slate-gray toning and a touch of rainbow coloring. Very fine. Ex Charles Opitz Collection. Estimated at $750-1,000. Sold for $3,500.

Lot 1959: Ethnographic. Taiwan. jacket money "cloth" made from more than 30,000 small polished shell and stone beads (by Steve Album's conservative estimation) by the Atayal people ca. late 19th century. Extremely fine. RRR. Ex Charles Opitz Collection. Estimated at $1,000-1,500. Sold for $2,200.
CEO Joseph Lang was pleased with the results. "We didn't have any big-ticket items in this auction, but there was a good variety of nice collector coins, and the majority sold around the high estimate or even higher."
The firm is taking consignments through 1st July for its Auction 41 which will be held from 16th to 18th September 2021. For more information see Steve Albums's website.