[bsa_pro_ad_space id=4]
Obolos 26 – The Festive Edition
As the scent of mulled wine and gingerbread slowly takes over the old town of Zurich, we are preparing both for the festive season and for our final online auction of the year. Our 26th edition of obolos is already online for more than a week and will close on 18th December 2022, starting at 14:00 CEST live on our webpage. This time the sale includes just 619 lots, ranging from ancient Celtic to modern coins and seals.
As always, we have tried to assemble an attractive auction with beautiful, rare and interesting coins.
This beautiful tetradrachm from Akanthos in Macedon was struck circa 370 BC under the magistrate Alexis, whose name appears in the obverse exergue. The main motif of a lion attacking a bull is certainly most expressive and dramatic, especially when executed by a very gifted die-cutter, as it is in this case.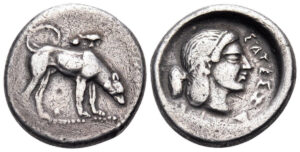 Segesta on the island of Sicily is best known for its majestic temple in what is today – the middle of absolute nowhere. The city minted didrachms for approximately 75-80 years, starting around 475 BC. The types remained the same during the entire period, depicting a hunting dog, the personification of the river-god Krimisos, on the obverse, and, on the reverse, the head of the nymph Aigeste. Our coin comes from the first period of issuance for didrachms, and the depiction of the nymph's head is still quite archaic. However, what makes the coin particularly special is its pedigree, which goes back to Jacques Schulman's auction of 17 May 1938!
This extremely rare bronze issue of the Dassaretes of Illyria depicts a splendid head of Zeus-Ammon on the obverse and a thunderbolt, and the legend ΔΑΣΣΑ/ΡΗΤΙΩΝ, on the reverse. Knowledge about this tribal community living on the fringe of the Greek world is still very limited with archaeological digs ongoing. We are lucky to be able to offer two different types of coins minted by the obscure Dassaretes in obolos 26, as lot 101 and lot 102. Both of them are exceptionally rare and very well preserved for the respective issue. An unmissable opportunity for a serious collector!
View all lots of Obolos 26.
For further information, visit the Nomos website.