[bsa_pro_ad_space id=4]
Obolos 17 Now Online
Nomos new online auction, Obolos 17, is now online and closes on 20th December 2020. There are 978 lots in this sale, including 63 multiple lots: mostly ancient coins but also medieval and some modern. In Obolos the prices given are starting prices, not estimates.
Here are a few highlights:
BCD had a few ancient imitations of the coinage of Euboian Histiaia, but they seem to be terribly uncommon. Lot 16 has a starting price of only 50 CHF.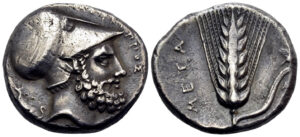 Lot 42 is a nomos of Metapontum with a head of Leukippos, which was probably acquired on the Swiss market at some point prior to 1965. The starting price of 200 CHF is due to the marks on the obverse and the graffito on the reverse, but for all its traces of wear, it remains an elegant and most artistic coin. And who was this Phry… who scratched the first letters of his name on the reverse?
Struck in the name of Alexander III by his half-brother Philip III, what is really interesting about lot 153 is the excellent 3/4 facing head of Herakles that appears on the obverse. The starting price is 50 CHF.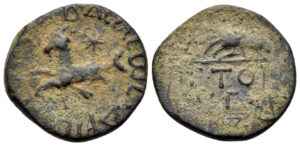 Now to an extremely rare coin, lot 380: It is a coin of King Aristobulus of Armenia Minor, the husband of the famous Salome. It is one of two known examples, was published as RPC II Online 1692A.1, and dates to 70/71. The starting price of this rarity is 2,000 CHF.
The bronze hemiassarion from the mint of Philadelphia in Lydia, lot 466, is truly something special and has a youthful head of Herakles on the obverse and what seems to be the usual bunch of grapes on the reverse. But it is not the usual bunch of grapes! It is a bunch of grapes with the features of Dionysos. Bidding starts at 50 CHF.
Lot 651 is actually a unique sestertius of Domitian Caesar. It is not in the RIC, seems to be unknown, and was struck in that mysterious Thracian or Bithynian mint that was responsible for a number of Flavian Imperial issues. This obverse legend is unknown for Domitian, but the consular date, VI, appears on known issues struck under both Vespasian and Titus in 79 – the year of the eruption of Vesuvius. How often can one find an unpublished and unknown sestertius?
The last coin in this list, lot 731, is one of the very rare antoniniani of Zenobia, struck in Antioch between March and May 272. This piece is quite clear, has nice surfaces and has the great distinction of actually being real, which is not necessarily the case with so many others one sees! As such, this is quite a desirable coin, struck by the romantic Queen of Palmyra who became the usurping Empress of the East, until her capture by Aurelian who brought her to Rome where after being exhibited in his triumph, was allowed to live out her life in a villa in Tibur.
All lots of Obolos 17 can be found on the website of Nomos.