[bsa_pro_ad_space id=4]
Nude and Eros in Numismatics: The W. Risse Collection
The material offered by auction house Künker on 13 October 2021 in its eLive Premium Auction 356 is truly special. The W. Risse Collection on sale has an extraordinary topic: Nuditas in nummis – nudity in numismatics. A similarly extensive collection focusing on this topic has never been sold.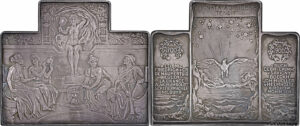 Mr Risse himself explains in the auction catalog why this focus is so fascinating. The image and reputation of objects that depict nudity have repeatedly changed throughout history. Is a nude, the depiction of a naked human being "as created by god" natural, beautiful and thus an integral part of art – or is this nudity obscene, even pornographic or sexist? A stroll through this collection is a journey through time in terms of cultural history and moral history from the Renaissance to the modern age. One can learn a lot about this subject by studying the catalog – not only from the pieces in the collection that are for sale but also thanks to the well-founded and interesting articles and commentaries written by Professor Dr Johannes Nollé and Mr Risse.
The 582 lots of the auction contain medals and plaquettes of the finest quality both regarding their condition and the artwork. The material is structured according to iconographic contexts such as "Traditions of Antiquity", "Biblical and Christian Traditions" and "Love and Sexuality". To ensure that every interested collector finds exactly what they are looking for, the catalog has several extensive indexes.
It is a historical fact that most nude artworks depict women. Therefore, the medals of the collection also mainly depict female nudes. The artists were inspired by ancient models. Particularly fine examples include Amphitrite riding a dolphin, Amphitrite resting on a beach with a Greek quotation from Aeschylus' Prometheus Bound and several beautiful depictions of Leda with the Swan.
A particularly extensive and high-quality group within the auction consists of plaquettes and medals by French artists created between 1870 and 1940. Common topics in this group are the ancient novel figure Chloë, who inspired Karl Lagerfeld to create his famous perfume, the charming depiction of a tree nymph watching a bird's nest, depictions of Diana, the goddess of hunt, of male and female fauns, flora, spring nymphs, Eve in Paradise, personifications of summer, gardening, viticulture as well as personifications of abstract concepts such as inspiration and compassion. These medals with their nudes that are often set in nature are impressive from the artistic point of view, especially since they are of extremely fine quality. They were created by some of the most renowned artists of the Art Deco period – and considering that they have surprisingly low starting prices.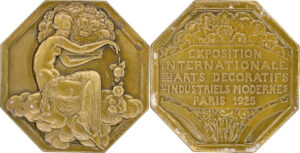 By the way: The name of this epoch is derived from the style-defining Exposition internationale des arts decoratifs et industriels modernes, which took place in Paris in 1925. The official medal commemorating this important exhibition features a naked Venus – and can of course be found among the lots. It is the cover piece of this auction.
You can find the auction online at the Künker website. Catalogs will only be mailed upon request. To order a catalog contact Künker, Nobbenburger Straße 4a, 49076 Osnabrück; phone: +49 541 962020, fax: +49 541 9620222; or via e-mail. You can bid live on your home computer or submit your bid via email prior to the auction sale. Please remember to register for the auction in good time if you do not have your myKuenker account yet.
If you are curious to learn more about the art historical and social background of these medals, don't miss Johannes Nollé's article "Nudes at the Time of the French Third Republic".
For further information about Künker, visit their website.