[bsa_pro_ad_space id=4]
Nine Top US Coin Collections at Heritage's Long Beach Event
When an auction has as many elite offerings as Heritage Auctions' Long Beach Expo US Coins Signature® Auction does – and make no mistake: this spectacular event offers a bounty of more than 1,500 elite coins and patterns – the choices might be sorted more easily when broken down into individual collections. Fortunately for those who take part in the 2022 October 6-9 event, many of the items in the auction can be sorted into several collections.
"This auction brings to light what can happen when passionate collectors spend years, or even decades, pursuing the finest available coins," says Todd Imhof, Executive Vice President at Heritage Auctions. "This event brings together rarities from some of the finest known collections, making available some extraordinary coins that in many cases have not reached the auction market for many years."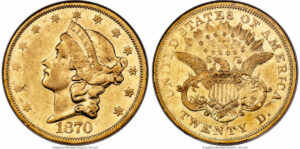 Among the top lots in the auction is an 1870-CC Double Eagle AU50 NGC. Variety 2-B, which is one of 22 lots in the sale that make up the Olivia Collection, including 19 Double Eagles. The offered example is one of the 10 finest among the roughly 40 survivors that remain from an original mintage of just 3,789 pieces. Since this issue served only a utilitarian purpose, no pieces were preserved for numismatic purposes; in fact, most were eventually lost to attrition. The PCGS estimate is that 40 to 50 pieces survive today, while Rusty Goe, in The Confident Carson City Collector, is slightly more generous with a survival estimate of 55 to 65 pieces. No 1870-CC twenties are known in Mint State. Most collections lack an example in any grade, much less an About Uncirculated 1870-CC. Other top lots from the Olivia Collection include, but are not limited to:
An 1892-CC Double Eagle MS62 PCGS Variety 1-A
An 1883-CC Double Eagle MS61 PCGS. Variety 2-A
An 1875-CC Double Eagle MS62 PCGS. Variety 2-B
Northern Lights of Vermilion Collection
This comprehensive 92-lot collection, with 59 Premier Session lots Thursday, Oct. 6, focuses largely on high-grade U.S. gold, including Eagles, Double Eagles and Half Eagles.
Among the top lots in the collection are a 1795 eagle, BD-1, graded AU53 NGC and a 1799 Capped Bust Right eagle, BD-7, certified MS63 PCGS. An 1807 Bust Right five dollar gold piece, BD-5, grades MS63 NGC and ranks among the finest known. Likewise, an 1806 BD-1 half eagle certified MS64 PCGS shows only one finer at PCGS. Later dates include an 1867 Liberty eagle certified MS62 PCGS, the sole finest at PCGS, and a nice 1915-S Panama-Pacific Octagonal fifty dollar – high end for the grade – certified MS64+ PCGS with CAC. Other top lots from the Northern Lights of Vermilion Collection include:
A 1931 Double Eagle MS65 PCGS
An 1876-S Double Eagle MS64+ PCGS CAC
A 1929 Half Eagle MS63 NGC CAC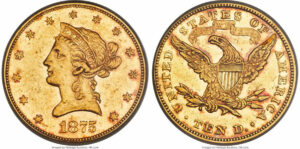 Allan H. Goldman Collection
Goldman was a prominent New York real estate investor who had a passion for both coins and American currency, and was an avid collector. Part I of the Allan H. Goldman Collection was presented during Heritage Auctions' July Long Beach/Summer FUN Signature® auction, in which these fresh-to-market coins generated exceptional results.
The 108-lot second installment, in this auction, includes some exceptional Premier Session coins, including an 1875 ten dollar gold piece AU53 PCGS. It is tied for the second-finest example known of one of the lowest-mintage circulating gold coins from the entire U.S. gold series – just 100 were struck by the Philadelphia Mint in 1875. Housed in a green-label holder, it will be a welcome addition to the finest collection or Registry set.
Also featured in the Goldman Collection is a trio of late-series Saint-Gaudens Double Eagles – 1929, 1931 and 1932 – each of which is graded MS64 PCGS.
Other top lots in the Goldman Collection include:
An 1879-O Liberty Double Eagle, AU50 PCGS, Variety 1
A 1920-S Saint-Gaudens Double Eagle, MS61 NGC
A 1930-S Indian Eagle, MS64 NGC
Christopher J. Salmon Collection of Massachusetts Silver, Part II
The auction includes the second installment of the most complete collection of Massachusetts silver ever offered. Salmon revolutionized how to collect and organize silver coins from the Bay State. Included are two (1652) New England shillings – one 3-B and 3-D – as well as an array of 1652 Pine Tree shillings in both Small Planchet and Large Planchet formats, and Willow Tree and Oak Tree silver in their various denominations.
Perfection Collection of Proof Seated Liberty Dollars
Collectors of Seated Liberty Dollars will find 25 lots from which to choose in the Perfection Collection, which includes several spectacular early Seated dollar proofs, as well as the current and all-time finest Liberty Seated Dollars Basic Registry Set of 1858-1873 for proof coins with CAC endorsement. With 24 ultra-high-end proof rarities, the collection stands out for its technical preservation as well as captivating eye appeal and memorable toning. Each coin in is incredible condition for its issue and qualifies for the Premier Session.
Select highlights include rare, CAC-approved proof dollars from 1840, 1854, 1855 and 1857, as well as an 1858 proof-only issue dollar in PR64+ Cameo in lot 3075. Other top lots from the Perfection Collection include, but are not limited to:
An 1863 in PR67+ Cameo CAC – arguably the finest Cameo known of the date
An 1865 in PR67 CAC, which is tied for finest certified
An 1866 With Motto in PR67 Cameo CAC
The Song Family Collection
From this extraordinary collection comes an amazing 1857-S Double Eagle from the S.S. Central America, certified MS67 Prooflike by NGC. No 1857-S Double Eagle has been graded finer at either NGC or PCGS in prooflike format. It is rivaled only by the nearly equally astounding MS67 NGC S.S. Central America twenty sold at Heritage Auctions' August 2022 Signature® auction for $198,000, although the prooflike fields may set the offered coin in a wholly different realm.
Raymond Lynn New Orleans Mint Gold Coins
This collection features 36 collector-grade lots of U.S. gold type forms, with an emphasis on Liberty Head Half Eagles and Eagles from the New Orleans Mint; most of the coins in the collection grade in the Choice VF to Choice XF range.
Top lots from the collection include, but are not limited to:
An 1850-O Double Eagle, VF30 PCGS
An 1842-O Half Eagle VF20 PCGS
An 1850-O Gold Dollar, MS61 PCGS, Variety 1
An 1909-O Five Dollar, XF40 PCGS, Variety 1
Schwenk Family No. 1 PCGS/CAC Peace Dollar Set
This is at least the 10th highly ranked PCGS Registry Set and at least the fifth of his Registry Sets to be ranked first for the Dr. George Schwenk, who pursued copper, silver and gold categories, as well as several type collections.
Top lots from the Schwenk Family Collection include, but are not limited to:
A 1934-S certified MS65 PCGS with CAC
A 1922-D $1 MS66+ PCGS. CAC
A 1927-D graded MS65+ PCGS with CAC
A 1928 certified MS65+ PCGS with CAC

1882 $100 Gold Certificate, Now Worth $700,000+
A magnificent hand-signed, triple signature 1882 $100 gold certificate, one of just two known examples, will become a centerpiece of a new collection when it is sold in Heritage Auctions' Long Beach Expo US Currency Signature® Auction – Long Beach October 5-7. The Fr. 1202 $100 1882 Gold Certificate PMG Very Fine 30 (estimate: $700,000+), with serial number A3386, is one of two known to exist, and the only privately owned example. The other is in a much lower grade and was transferred in 1978 from the Treasury Department to the Smithsonian Institution.
"The first emissions of Series 1882 Gold Certificates were printed in minuscule numbers and saw extensive circulation," says Dustin Johnston, Vice President of Currency at Heritage Auctions. "Only the first 9,000 printed and issued were hand signed by Thomas C. Acton. Two are known to have survived – a microscopic survival rate. With the other known survivor in the National Numismatic Collection at the Smithsonian, this offering is incredible, perhaps once in a generation or even lifetime. Hailing from The Allan J. Goldman auction, its last offering was 20 years ago."
Another magnificent note that is unique in private hands is a Fr. 1203 $100 1882 Gold Certificate PMG Choice Fine 15(estimate: $500,000+). Series 1882 $100 Gold Certificates were issued for more than three decades. However, there was a huge gap between 1891 and 1898 when no new plates or print runs were ordered for a number of the denominations, creating two distinct Gold Certificate issuing periods. With no new notes being issued, those already in circulation were used heavily to meet the needs of the channels of commerce, even though hoarding of metal-backed notes was popular. All of the major Gold Certificate rarities offered in this auction are from that first issuing period, when print runs were miniscule compared to the second issuing period. Among the most important of these rarities is the Fr. 1203, featuring the Signatures of Blanch Bruce and A.U. Wyman, who served jointly in the Treasury from April 1883 to April 1885. Three examples are known; the two others are part of the Federal Reserve Bank Collections in Richmond and New York. Major paper rarities are rarely in original and unaltered condition.
A Fr. 2230-E $10,000 1928 Federal Reserve Note. PMG Choice About Unc 58 is the finest-graded example and is one of just 10 known for its type, two of which are in museum collections. Series 1928 $10,000 FRNs are far rarer than Series 1934 pieces of the same denomination. "When this note was last offered, it set a price record for a Small Size type note," Johnston says. "As the finest graded example of this massive 20th century type rarity, it should easily reclaim that title." The record price "title" was only recently eclipsed by its brethren, a discovery 1928 $10,000 from the Kansas City district, which Heritage sold in early 2021 for $456,000. "It is the ultimate combination of rarity and condition," Johnston said.

Another high-denomination note featured in the auction is a Fr. 2220-F $5,000 1928 Federal Reserve Note. PMG Choice Very Fine 35 (estimate: $150,000+). Like the 1928 FRN $10,000s, far fewer of the 1928 $5,000 FRNs remain compared to their 1934 counterparts. Track & Price has enumerated just 19 serial numbers for the 1928 Series as compared to 109 for the 1934 Series. The serial number in this lot is F00000077A and has been included in the census data for many years. The 1928 notes have the "redeemable in gold on demand" obligation clause, while the 1934 notes sport the "redeemable in lawful money" obligation clause. Neither clause is valid today, but the earlier "gold" clause always has been more of a draw to collectors.
A Fr. 2231-B $10,000 1934 Federal Reserve Note. PCGS Banknote Choice Unc 64 (estimate: $150,000+) once was a part of the famed $1 million display at Binion's Horseshoe Casino in Las Vegas. This nicely preserved banknote, with serial number B00003059A, was part of the renowned display that was composed of a total of 100 Series 1934 $10,000 FRNs on the New York district framed by a large gold-color horseshoe. The open end of the horseshoe was on the bottom and the notes were exhibited in five columns of 20 notes each; the note offered in this auction is one of the nicest examples featured in the display.
Other top lots in the auction include, but are not limited to:
A Fr. 172 $100 1880 Legal Tender PMG Choice Uncirculated 64 – one of 11 known (estimate: $125,000+)
A Fr. 1204 $100 1882 Gold Certificate PMG Very Fine 25, from the Allan H. Goldman Collection, with the rare large red spiked seal (estimate: $125,000+)
A Fr. 1218f $1,000 1882 Gold Certificate PMG Very Fine 25 from the Allan H. Goldman Collection (estimate: $125,000+)
A Fr. 2231-G $10,000 1934 Federal Reserve Note. PMG Extremely Fine 40 (estimate: $120,000+)
The auction will include a second event, starting with The Harry W. Bass, Jr. Core Collection, Part I, Sept. 29. The extraordinary Bass Collection is one of the finest collections of U.S. gold coins and related patterns, and has been away from the public eye for more than half a century.
In the online catalogs you can find further information about the Long Beach Expo US Currency Signature Auction as well as the Long Beach Expo US Coins Signature Auction.
For further information, visit the Heritage Auctions website.