[bsa_pro_ad_space id=4]
December 13, 2018 – The Numismatic Guaranty Corporation® (NGC®) has certified a very rare gold medal struck by Mexico for the Brazilian soccer team to celebrate them as the first to win three World Cups. The historic feat was achieved in 1970 in Mexico, which hosted the World Cup tournament that year.
The medal was purchased in a private sale and recently submitted to NGC, which graded it NGC MS 66.
The medal is believed to be one of only about 20 that were issued, and is struck in 21-karat gold, which is common for Mexico issues. These medals were created for members of the victorious Brazil team, and they are rarely offered for sale.
The obverse reads NOVENO CAMPEONATO MUNDIAL DE FUTBAL (Ninth World Championship of Soccer), with MEXICO 1970 at the bottom. Along the periphery are the flags of the 16 finalist nations, including Brazil at 1 o'clock. At the center is a likeness of the Jules Rimet Trophy, which the Brazilian team was allowed to keep as the first three-time World Cup champion. (The trophy itself was later stolen and has never been recovered.)
The reverse reads CAMPEON MUNDIAL (World Champion), and shows the years of Brazil's first three World Cup wins: 1958, 1962 and 1970. Today, Brazil has five World Cup titles, the most of any nation.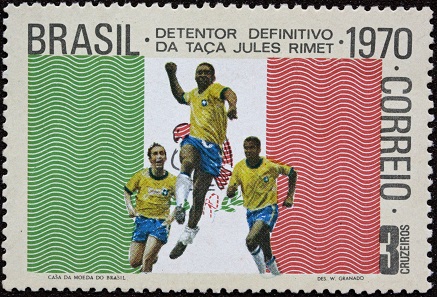 Brazilian stamp of 1970 celebrating the World Cup team.
Many regard the 1970 Brazilian team as the greatest World Cup team of all time; it included Pelé, often cited as the greatest soccer player of all time. Brazil defeated Italy 4-1 in the final in Mexico City, the first time the World Cup was held in North America.
Because of the sport's global popularity, many nations have struck commemorative coins to celebrate the World Cup competition, which is held every four years. Qatar hosts the 2022 tournament, followed by the United States, Canada and Mexico in 2026.
More information on the Numismatic Guaranty Corporation is available on the NGC website.
Football fans will enjoy this video report about the Brazilian football team of 1970.