[bsa_pro_ad_space id=4]
May 31, 2018 – On the occasion of the 10th anniversary of the inscription of San Marino Historic Centre and Mount Titano in the UNESCO World Heritage List, San Marino issues two stamp and coincards.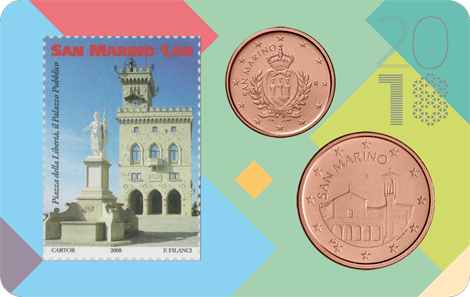 San Marino / 1 and 5 Cent / Mintage: 10,000.
The first one shows the €1.00 stamp, issued for the UNESCO series in 2008, which depicts the Government Building with the Statue of Liberty and the €0.01 and €0.05 coins 2018.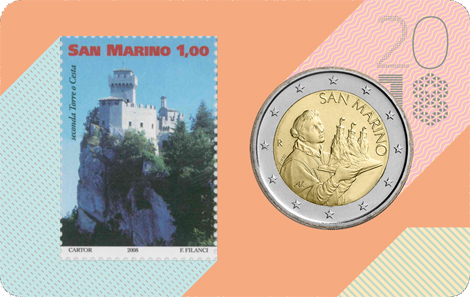 San Marino / 2 Euro / Mintage: 10,000.
The second one is made up of a €1.00 stamp, issued in 2008, which represents the Second Tower and the €2 coin 2018. The image on the reverse is a detail of a painting by G. B. Urbinelli.
San Marino / 5 Euros / silver .925 / 18g / 32mm / Mintage: 12,000 complete sets.
Moreover, San Marino issues a new 5 Euro silver uncirculated coin dedicated to the "World Wildlife Day". The 2018 brilliant uncirculated silver 5 Euro coin, designed by the Canadian artist Andrew Lewis, shows on the obverse side, three feathers, symbolizing the Republic of San Marino.
The reverse of the coin depicts the image of a feline with the fur covered with spots and stripes of various species, symbolizing all big cats. This is the theme under which the 2018 World Wildlife Day will be celebrated. The graphic style of the image recalls the areas where these animals live, in order to raise awareness particularly of conservation and to highlight the value of protection of endangered species.
You can find San Marino's mint here.
This video explains San Marino's history.
More on San Marino's latest Euro coins in this article.