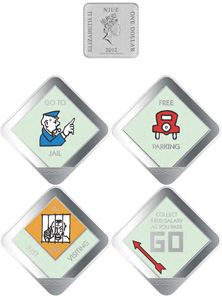 [bsa_pro_ad_space id=4]
February 7, 2013 – A board game that's sold more than 275 million copies and a movie franchise worth more than one billion dollars are the two latest additions to the NZ Mint collectable coin family.
The three legal tender coin sets, depicting the Monopoly game and the Transformers characters are manufactured in fine .999 silver and are being launched at the Berlin World Money Fair on 1 February.
"The Monopoly game is one of the world's most popular games, and Transformers is one of the most iconic action brands with globally known movies, television shows, action figures and more so these two coin sets will be easily recognizable around the globe," says NZ Mint chief executive Simon Harding.
The coin sets are produced under a two year license from global branded play company Hasbro and bear the effigy of the Government of Niue.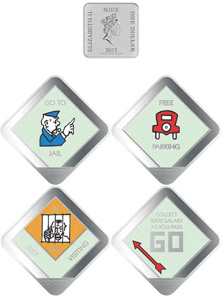 Niue Islands / 2013 / NZ$1 / 999 silver / 22 x 22mm / Mintage: 5,000 / 4 coin set
A four coin Monopoly set has been produced and features quarter ounce square coins with the iconic images of Free Parking, Go To Jail, Pass Go and In Jail from the board game.
"The design and presentation of the sets is something we invest a lot of time in. The four coin set sits inside one of the little green houses like those used in the game and will be instantly recognizable to fans of the Monopoly game," says Harding.
Niue Islands / 2013 / NZ$2 / 999 silver / 35 x 35mm / Mintage: 5,000 / 2 coin set
A second Monopoly 2 x 1oz coin set depicts other iconic images of the game including Mr Monopoly himself and is presented in a case in the shape of a top hat.
Created 78 years ago by American Charles Darrow, the Monopoly game is still one of the world's favorite games and is available in 111 countries and 43 different languages.
Niue Islands / 2013 / NZ$2 / 999 silver / 40.7mm / Mintage: 5,000
The two-coin Transformers set features main characters Optimus Prime and Megatron in classic styling and is presented in a cube box in the unique style of the Transformers products.
Hasbro Senior Manager Category Licensing Tanya Doyle says the agreement with NZ Mint takes these two popular brands into a new consumer market.
"Monopoly and Transformers are iconic brands with strong brand awareness around the globe but by turning them into collectable coins they now become attractive and accessible to a whole new range of consumers," Doyle says.
To learn more about the New Zealand Mint and its products click here.