[bsa_pro_ad_space id=4]
October 18, 2012 – He is the greatest boxer of all time and now the New Zealand Mint is celebrating the 70th birthday of Muhammad Ali by releasing a limited edition collectable coin in his honour.
Fiji / 2 FJD / 1oz 999 silver / 40.7 mm / Mintage: 7,500.
The 1oz coin is manufactured from .999 fine silver and is uniquely packaged along with a miniature boxing glove. It is produced in cooperation with an official licensee of Muhammad Ali Enterprises, S & A Partners, and comes complete with a certificate of authenticity from NZ Mint. The one-of-kind coin is designed and manufactured by the New Zealand Mint.
"Muhammad Ali is not only the greatest boxer of all time, he's arguably one of the greatest sportsmen of all time," says NZ Mint chief executive Simon Harding.
"This Ali coin is a one-of-a-kind and to be able to produce it to celebrate his 70th birthday just makes it a little more special. He's a great man and this is a great coin. We expect the issue to be a great success."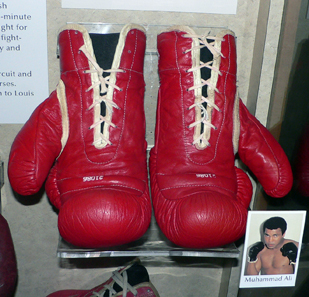 A pair of Muhammad Ali's boxing gloves, on display at the National Museum of American History, Washington, DC. Photo: Mark Pellegrini / Wikipedia. Creative Commons CC-BY-SA-2.5.
Ali is the only World Heavyweight Champion in history to have won the crown three linear times. He ended his career with 56 wins (37 by KO) and 5 defeats.
The Ali coin bears the effigy of the Government of Fiji and is legal tender.
More information on this coin is available on the website of the New Zealand Mint.
To recall 'The Thrilla in Manila' you may watch a three-episode clip on YouTube.