[bsa_pro_ad_space id=4]
September 4, 2014 – The Grand Canyon is one of the most impressive natural wonders on our planet and a worthy subject to mark the start of a new coin series: "Spectacular Landscapes". By choosing a powerful combination of silver, marble and colours, Coin Invest Trust has truly imbued this spectacular landscape with life.
Cook Islands/ 5 Dollars/ Silver .925/ 20 g/ 38.61 mm/ Mintage: 2,000.
With an unbelievable length of 450 km, the Grand Canyon can hardly be described as a mere canyon. Although it is only one of many national parks within the US, the Grand Canyon, located in Arizona, would span several countries if it were on another continent. Over millions of years, the ceaseless flow of the Colorado River created this canyon of incredible magnitude. Its deepest part measures 1600 m in depth and between six and 30 km in width.

This grand spectacle of nature attracts some 5 million visitors each year. The more athletic can be seen descending the steep slopes, while the rest content themselves with marvelling at the grandiose nature from one of the numerous viewpoints. In 1908, Theodore Roosevelt declared the area a National Monument and in 1919 it became a National Park. The vastness of the geographical area corresponds to the importance attributed to the site by its enlistment as UNESCO World Heritage in 1979.
The unique geographical phenomenon stretches across five climatic zones and these diverse conditions result in high biological diversity: puma and bighorn sheep feel at home here, just like the California Condor that has been reintroduced to the Grand Canyon area. And even human life can be found here. More than three thousand years ago, the first Natives explored the Grand Canyon in search of food and shelter. Ever since, the ecosystem has almost continuously been settled. The first explorers were followed by settlers who left us petroglyphs and who were in turn succeeded by Pueblo Indians, who lived in the typical multistorey stone and cob brick houses. It is their descendants who still call the Grand Canyon home today.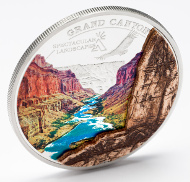 Grand Canyon with a prominent marble inlay.
Capturing the magnitude of a natural wonder like that on a small coin is a tough challenge. But the skilful use of colours, in combination with the prominent marble inlay, make the impossible possible and the ungraspable beauty of the Grand Canyon – literally – graspable. Of course a coin can never substitute the real travel experience. But maybe it can lead to it?
And if you don't get round to seeing the Grand Canyon live any time soon, at least take a virtual tour along the spectacular scenery!
Click here to go to the Coin Invest Trust Online Shop.
If you like the coins from Coin Invest Trust, do have a look at the latest issues in their "World of Wonders" series!