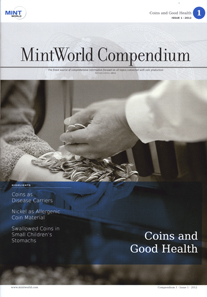 [bsa_pro_ad_space id=4]
March 8, 2012 – On February 2, 2012 Ursula Kampmann presented her most recent product to the professional world: MintWorld, a medium for the coin producing industry. MintWorld consists of the printed journal MintWorld Compendium and the internet journal MintWorld. There will be two Compendium issues per year, the internet journal will be available monthly as newsletter.
MintWorld is adressed to central banks, mints, supplying industry and marketing experts. The MintWorld Compendium being published in English covers one specific topic and will be distributed at no charge during the important events of the coin producing community.
Interested readers who are not able to attend these events may download the MintWorld Compendium cost-free. The first issue is dedicated to the topic "Coins and Good Health".
If you want to download the MintWorld Compendium, click here.
We will send out monthly a newsletter of MintWorld with articles concerning the coin producing industry. To subscribe to the newsletter, simply click here.
Journals live on information. Hence, let us know if you think that a news might be of concern to the coin producing industry. If you want to share some information with us, click here.