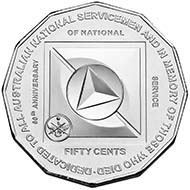 [bsa_pro_ad_space id=4]
September 9th, 2010 – On August 24th, 2010, the Royal Australian Mint unveiled a new 50 cent coin which commemorates the 60th anniversary of National Service at the Australian War Memorial in Canberra.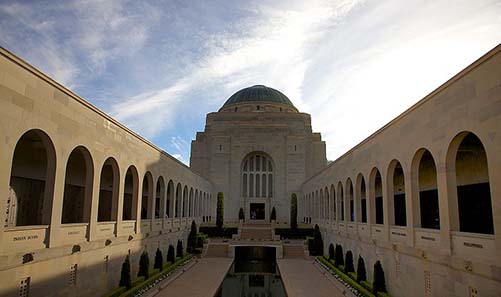 Australian War Memorial. Photo: Capital photographer (talk) / Wikipedia.
At the recently constructed National Service memorial site, the new coin was permanently laid under the dedication plaque by Major General Steve Gower, AO, AO (Mil), Director of the Australian War Memorial, as an everlasting symbol of gratitude to these servicemen.
"Now in place for eternity, this commemorative coin honors the role that these 287.000 young men played in Australia's history," said Major General Gower.
Released by the Mint in partnership with the National Servicemen's Association of Australia (NSAA) and designed by internationally acclaimed engraver and sculptor, Wojciech Pietranik, the 50 cent coin design features key elements of the new memorial site and fountain.
"For three decades, National Service was of incredible significance, ensuring adequate recruitment and training of soldiers for Australia's Armed Forces," said Graham Smith, Deputy Chief Executive Officer, Royal Australian Mint.
"In keeping with our long history of maintaining records, capturing moments and celebrating important achievements with Australia's rich heritage and culture, the Royal Australian Mint is proud to give all Australians the opportunity to own a piece of history," said Mr Smith.
A dedication ceremony to officially open the new memorial will take place on 8 September 2010 where a large contingent of National Servicemen will be in attendance.
"The National Servicemen's Association of Australia is honored to see servicemen being recognized by this handsome new coin. We only have one medal so it provides us with the opportunity to share our history with many others," said Major Earle Jennings AM RFD ED, NSAA National President.
The commemorate National Service coin will be available to purchase from Monday 6 September 2010 from the Royal Australian Mint Shop in Canberra, online via www.ramint.gov.au or by calling 1300 652 020.
If you are interested in the National Servicemen Association, please visit here.
If you want to know more about the dedication of the National Service Memorial, click here.
If you want to get an impression, what the Australian War Memorial means to Australians, please have a look here.