[bsa_pro_ad_space id=4]
November 9, 2017 – From Friday 8 till Sunday December 10th, 2017, the first edition of the Maastricht International Fair (MIF) will take place in the Maastricht Exhibition & Congress Center, commonly known as MECC.
Entrance of the MECC in Maastricht.
Every year in the MECC many congresses, events and trade shows take place. One of the best known is the TEFAF, the annual art and antiques fair. The Maastricht International Fair (MIF) is a public fair for collectors, enthusiasts and investors in coins, paper money and precious metals.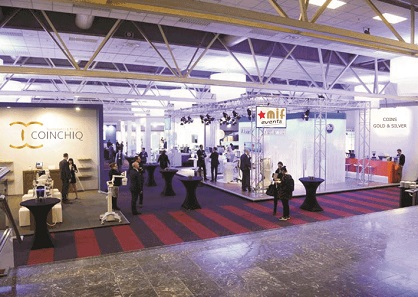 Each participant will have its own stand.
Initiator Dimitri Waltmans about the MIF: "The idea was to set up a trade fair with an international look and feel and what is then the best place for that in our region? MECC Congress in Maastricht, located the European triangle of Belgium, The Netherlands and Germany. Perfect to reach by car, train and plane."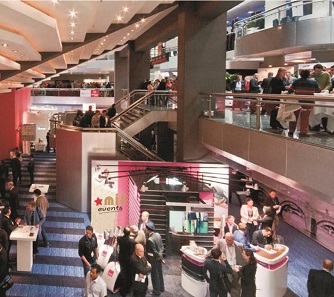 A fair with international allure.
The first edition of MIF 2017 will approximately 5,000 sqm containing a large number of exhibitors and dealers coming from all over the world, including some that were not previously on a numismatic fair in theNetherlands. From Asia will, among others, Henry Hirose from Japan and New Century Coins & Notes from Hong Kong, be present at the MIF.
Bilal Jadeyel, among others, coming from the Middle East (Abu Dhabi) and Abdul Latif Al Balushi (Oman) with their huge collections will attend the MIF.
All in all, approximately 200 exhibitors and dealers will present with their coins, banknotes and precious metals to offer them to collectors and investors.
Lighthouse and Catawiki.
Organising a Fair like this requires sponsors. Dimitri Waltmans: "We are therefore very pleased that two well-known firms were prepared to take part at this very first edition. Lighthouse, a world-famous manufacturer based in Germany is one of our main sponsors. The company that celebrates its 100 year anniversary and is known for their albums, coin magnifiers, cassettes, capsules, etc. In short, Lighthous provides everything to store your coin or banknote collection. The second main sponsor is Catawiki."
"Catawiki is the largest auction website of Europe with more than 300 different auctions taking place every week in more than 80 categories. There are 17 weekly coin and banknote auctions, provided by a team of experts. On weekends from 8 to 10 December 2017 Catawiki as main sponsor will play a big role in the stock market."
"This will give every visitor at the entrance a free Catawiki welcome goodiebag with a surprise and at the booth of Catawiki a special valuation corner will be present where everyone is invited with their coins, precious metals or bank notes to appraise them by the numismatic experts of Catawiki. After valuation it is immediately possible to do trading on Catawiki."
According to Eric Toonen, manager of the coins auctions at Catawiki, this is a special collaboration: "We are proud to be the main sponsor and to contribute to very first edition of the MIF Maastricht. The great thing about this event is that we normally do everything online. We estimate on the basis of photos and see auction pieces almost never in real. With this event this will change. The international character of the event MIF 2017 fits well with Catawiki."
"In addition, the numismatic experts of Catawiki, along with some guest speakers, keynotes take care on various topics relating to collecting coins and numismatics. Also, MIF will pay attention to the new world of crypto currency coins and tokens like the Bitcoin and Ethereum. New features like crypto trading, mining and stakes will also be part of several lectures together with BitConnect Europe."
Special coin issues – Limited Edition.
The international character of the MIF 2017 is underlined by the issuance of two special coins. For years the Somali Republic presents coins with the theme "African Wildlife" gold and silver ounces.
During the first edition of the MIF 2017 both collector coins will be presented in a limited edition with the MIF 2017 logo on them. The edition of the MIF2017 African Wildlife gold coin contains only 30 pieces. The edition of the silver version contains 800 pieces. The coins come with a numbered certificate of authenticity. The coins are available at the stand African Wildlife MIF 2017 with a maximum 1 coin per person.
For more information about the latest news take a look at the MIF website.