[bsa_pro_ad_space id=4]
October 20, 2011 – After the decision of the Finnish Ministry of Finance and the European Commission, the 2011 two-Euro commemorative coin celebrates the 200th anniversary of the Bank of Finland. The coin that will was issued on October 17 displays a Finnish swan design by the famous gold-coin artist Hannu Veijalainen.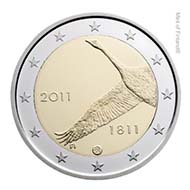 Hannu Veijalainen's "Siivet kantaa" (Spread Wings) design for the new Finnish 2-euro collector coin 2011.
Every year, each Eurozone member state is allowed to issue a two-euro commemorative coin with its own motif. Between 2002 and 2011, Eurozone member states have issued a total of more than 200 different two-euro coins. The reverse side of these commemorative euro coins is similar to that of ordinary coins, while the collector image is on the national obverse side.
As is traditional, the national side of this year's Finnish commemorative coin draws on Finnish history, as the coin symbolizes the 200-year-old Bank of Finland. The Bank of Finland's roots are in the "Waihetus- Laina- ja Depositioni-Contori" ('Exchange, Lending and Deposits Bureau'), which was established in the former capital city of Turku in 1811 under the decree of Tsar Alexander I.
Two-euro commemorative coins are Mint of Finland's most popular product. For months now, many people from all over the world have been enquiring about the motif of the 2011 Finnish commemorative coin.
"Anybody can get hold of the commemorative coin, as part of the series will be released into general circulation. Perhaps that's where the interest in the coin and the significance of its motif lies – the coin carries a Finnish message all around the world to those people who end up with the coin in their hands," says Mint of Finland's CEO, Paul Gustafsson.
From 17 October commemorative coins for different purposes will be made available through Mint of Finland's online outlet store: as well as individually-packaged proof coins, you can buy many units of the coin at a time or as part of a coin series.
The commemorative coins will be available as UNC coins in 10-coin circulation coin purses and in packages that include 5 coin rolls. Whether in a complete proof coin set or as part of the second Bu coin set of the year, the 2011 commemorative coin will be a treasured souvenir in its plastic case alongside the coins of previous years. The proof coin set will be released on 1 November.
You can find more details on the design in a previous article we published here.
For more information on the Bank of Finland and its collector coins, please click here.