[bsa_pro_ad_space id=4]
March 14, 2013 – Following the announcement by the Monetary Authority of Singapore (MAS) that a new coin series will be in circulation by the middle of this year, the MAS will be issuing three commemorative coin sets in limited worldwide mintage to commemorate this historical milestone.
These sets are namely:
The Third Series Silver Proof Coin Set;
The Second and Third Series Uncirculated Coin Set (a cross-over set the Second and Third Series coins bearing the same year date of 2013); and
The Third Series Uncirculated Coin Set.
Singapore's national icons and landmarks – The Esplanade – Theatres on the Bay, Public Housing, Changi Airport, The Port of Singapore and The Merlion – are proudly featured in the designs of the Third Series coins. All the commemorative sets will be marketed by The Singapore Mint, which also exclusively produces the Silver Proof Coins.
"This is a significant milestone in Singapore's currency, as the change in circulation coins appear only once in more than 25 years. The new commemorative sets not only offer an opportunity to capture a piece of history and celebrate this significant launch, they also have a significant collectors' value." said Mr Yip Pak Ling, Mint Director.
The Third Series Silver Proof Coin Set
Bearing designs of the Third Series circulation coins, this premium coin set has a limited mintage of 20,000 sets and features silver proof coins with special feature applications. Gold plating is applied to the 5¢and $1 to resemble the colour of the circulation coin version. This is the first time Singapore is issuing coins with gold plating. As an additional unique touch, the set's $1 circulation coin has a dash of colour applied to the Vanda Miss Joaquim featured at the center of the coin.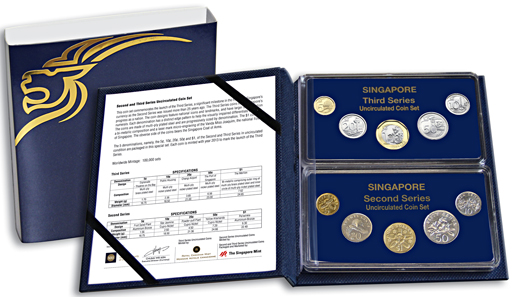 Worldwide Mintage: 100,000 sets.
The Second and Third Series Uncirculated Coin Set
If history could be packaged, this would be it. Keep treasured memories close to heart with this invaluable memorabilia which comprises both the Second and Third series coins of all 5 denominations – 5¢, 10¢, 20¢, 50¢ and $1 in uncirculated condition. Both series of coins bear the same year date 2013, which will make the set even more exquisite and truly worthy of your collection.
Worldwide Mintage: 50,000 sets.
The Third Series Uncirculated Coin Set
This coin set comprises the 5 circulating denominations from the new series in uncirculated condition. The $1 coin has a bi-metallic composition and a laser mark micro-engraving of the Vanda Miss Joaquim, the national flower of Singapore.
More information about these and other coins are available on the website of The Singapore Mint.
The Merlion featured on the coins, is a mythical creature with a lion's head and the body of a fish. In Singapore you can find a Merlion Park – watch this video.