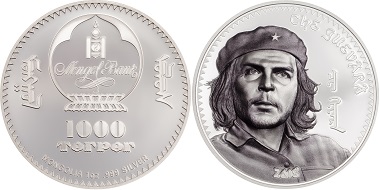 [bsa_pro_ad_space id=4]
March 15, 2018 – Che Guevara has been one of the most prestigious icons of the leftist movement in the 20th century. The Bank of Mongolia has now announced that they'll issue a coin commemorating Guevara, making it the third one in their series of "Iconic Revolutionaries".
Mongolia / 1000 Togrog / Silver .999 / 1oz / 38,61mm / Mintage: 1.000 / Design by B. H. Mayer's Kunstprägeanstalt, Munich.
Mongolia's new coin doesn't show this well-known image but another, similar portrait instead. It makes the Marxist revolutionary look younger and more humane: It's not the Guerillero Heroico, whom the media turned into an icon, but a considerate politician trying to convince his opponent with impassioned speeches.
The incredible true-to-life effect of the portrait is achieved by combining smartminting technology with sparse selective coloring in black and white. The extremely high relief appears even more plastic due to the restrained colour application. The depiction has the appeal of a threedimensional rendition of a black-and-white photo.
Che Guevara (left) and Fidel Castro 1961 in Havana. Source: Wikicommons.
The coin is a technical marvel: Colour application on high relief has only recently been made possible thanks to the latest technology. The mint B. H. Mayer in Munich has perfected its technique for this series.
Mongolia / 1000 Togrog / Gold .9999 / 0,5g / 13.92 mm / Mintage: 5.000 / Design by B. H. Mayer's Kunstprägeanstalt, Munich.
A gold coin at 0.5 g, with a diameter of 13.92 and an identical motif was also issued.
Here's more about the two coins in silver and gold.
To get a better grasp of this silver coin's high relief, watch this film.
You want to know more about the life of Che Guevara?
In our archive, you can also find articles about the first coins of this series dedicated to Fidel Castro and Chinggis Khan.