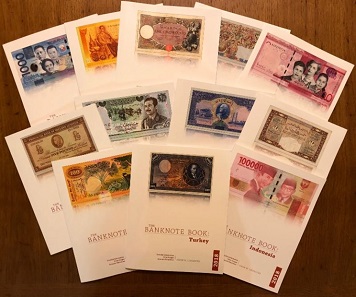 [bsa_pro_ad_space id=4]
July 12, 2018 – After many years of preparation, seven years ago Owen W. Linzmayer began publishing The Banknote Book with an initial release of 10 chapters. Since then, the catalog has swelled to 265 chapters, with a total of 4,701 pages covering 44,523 types and varieties. Now, ten new chapters have been released which cover mostly African and Asian paper currency.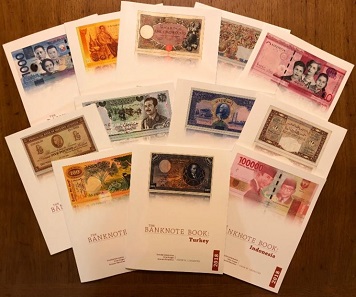 The covers of the some of The Banknote Book's chapters. In response to customer demand, select chapters of The Banknote Book are now available in print. Photo: Owen W. Linzmayer.
"I'd like to thank everyone who has helped reach this milestone, especially the many subscribers and contributors who've spent countless hours scanning their collections, sharing information, and reviewing drafts to ensure the catalog is as accurate as possible," Linzmayer says.
Revisions to the following have been published recently:
British Honduras (updated prices throughout)
China (added listing for B5606as)
East Caribbean States (added listing for B101b3s)
Egypt (added listing for B117bs)
French West Africa (added listings for B102Cbs, B104Gas, B104Pbs, B105Pa1s)
Grenada (updated prices throughout)
Hong Kong (added listings for B404cs, B406bs)
Ireland, Rep. of (added listings for B202fs, B213bs2)
North Korea (added listing for B318b)
Sudan (updated prices throughout)
Turks & Caicos Islands (updated prices throughout)
Uganda (added listings for B157e, B159c)
West African States (added listings for B121Aq, B121Tq, B122Tp)
Furthermore, some of the chapters are available as printed editions. They include the following states and regions:
Ceylon
Dominican Republic
Egypt
Germany
Indonesia
Iran
Iraq
Italy
Lebanon
Macau
Northern Ireland
Philippines
Syria
Thailand
Turkey
For more information, be sure to visit Owen Linzmayers website.
In this video, Linzmayer talks about his books.
To read our own portrait of The Banknote Book, click here.