[bsa_pro_ad_space id=4]
December 4, 2014 – The Friends of the Segovia Mint Association has just published another new book, written by Dr. Glenn Murray: "The Madrid Mint: Mintage Statistics and Assayers. In Commemoration of the 400th Anniversary of the Mint's Founding in 1614". The 188 page book (15 x 21 cm), in color, has been published by the Association, in its 21st year of existence, without external economic assistance, and has been economically priced to make it easily available for everyone. Honoring the Association's tradition, this book is mailed free of charge to each of the nearly 200 members.
Glenn Stephen Murray Fantom, Casa de Moneda de Madrid: cantidades acuñadas y ensayadores. En conmemoración del 400 aniversario de su fundación en 1614. Friends of the Segovia Mint, 2014, Segovia. Paperback, 15 x 21 cm, 186 pages, in color. Price: 12,00 euros plus postage fee.
The book is designed to establish a basis for the rarity of coins struck in Madrid based on historic documents, as opposed to pricing opinions currently used in catalogs prepared by coin dealers. These statistics, the only real gauge for rarity, have never before been published, while at the same time are the most sought after information by coin collectors as well as dealers. These unpublished statistics are compared metal by metal and year by year in 51 different charts encompassing all coins struck from 1615 to 1868. In this manner, the author aims to establish a panoramic view of all Madrid coins known to date and of those which may or may not appear in the future.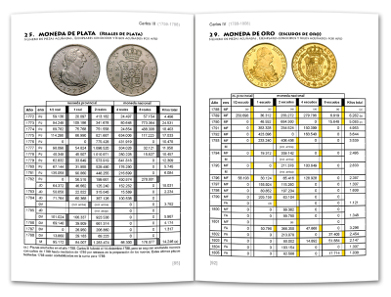 Mintage statistics for all coins struck in Madrid from 1615 to 1868, compared piece by piece with the coins known today in 51 charts encompassing 76 pages of the book.
On the other hand, the book has been designed to be as didactic, easy to understand and enjoyable as possible, even for those just starting in numismatics. For this reason, basic concepts related to coin production are explained, such as the availability of gold and silver to strike into coin, legislation regarding the issue or prohibition of certain series, as well as other factors which came into play affecting yearly production. Also considered are obstacles which these coins have had to overcome in order to survive until our times. In these regards, the frequent campaigns for the removal of certain series from circulation and their melting are listed and discussed. These concepts are fundamental for us to take into account when attempting to understand the possibility of the appearance of a heretofore unknown date in any series.
To compliment the mintage statistics, the book offers complete biographies for each of the assayers whose marks appear on coins struck in Madrid including their signatures and dates of promotions or death. An index of assayer marks helps make identification of these symbols on the coins quick and easy.
Concepts to be taken into account with 10 graphic charts helping to correctly identify coins struck in Madrid.
Regarding the buildings which the Madrid Mint has occupied over the centuries, images and maps help readers locate these sites, since these historic buildings do not exist today.
Towards the rear of the book are 20 charts for the quick identification of weights and fineness of each issue, including the number of pieces able to be struck from one kilo of metal. These never before published charts, of the author's own confection, cannot be found in other numismatic literature and contain the mathematical formulas used to calculate the exact number of pieces struck each year starting in 1730 and the total weight in kilos struck from each metal, each year from 1615 to 1868.
This is the first time that this type of book has been published in Spain, based on archival documentation rather than pricing opinions by coin dealers. The low purchase price of the book can be quickly recovered by buying or selling coins struck in Madrid with the advantage of knowing these unpublished mintage statistics.
For more information or to order the book go to the website of the Friends of the Segovia Mint …
… or write an email.