[bsa_pro_ad_space id=4]
June 28, 2018 – Designed by John Mercanti, the newest Australian 100 Dollar coin struck at the Perth Mint has a superb high relief reverse that depicts a mother Wedge-tailed eagle looking down at her young chick.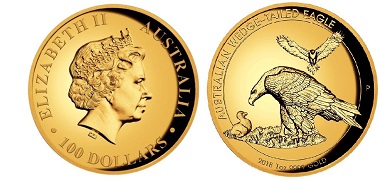 Australia / 100 AUD /.9999 gold / 31.107g / 27.3mm / Mintage: 500.
The Wedge-tailed Eagle is Australia's largest bird of prey and one of the biggest eagles in the world. Found throughout mainland Australia, Tasmania and southern New Guinea, the Wedge-Tailed Eagle has a wingspan of up to 2.7 metres, and displays a long, wedge-shaped tail and feathered legs. This majestic bird is known to soar through the sky for hours on end, frequently reaching altitudes of up to 2,000 metres. In the heat of the day, the eagle makes use of hot thermal air currents that drift up from the ground to reach these dizzying heights, whilst expending little energy.
The Wedge-tailed Eagle with the typical wedge-shaped tail visible. Photo: JJ Harrison / CC BY-SA 3.0
The Australian Wedge-tailed Eagle 2018 1oz Gold Proof High Relief Coin is struck by The Perth Mint from 99.99 percent pure gold, and issued as legal tender under the Australian Currency Act 1965. No more than 500 of these coins will be released worldwide. Designed by John Mercanti, the coin's superb high relief reverse depicts a mother Wedge-tailed eagle looking down at her young chick. The father is portrayed hovering above them with its magnificent wings fully extended. The design also includes the inscription AUSTRALIAN WEDGE-TAILED EAGLE, the 2018 year-date, the coin's weight and fineness, and The Perth Mint's 'P' mintmark. The coin's obverse depicts the Ian Rank-Broadley effigy of Her Majesty Queen Elizabeth II and the monetary denomination.
The Perth Mint's website can be accessed here.
This video shows a professional falconer talk about the Wedge-tailed eagle.