[bsa_pro_ad_space id=4]
December 2, 2010 – Mint of Finland's provincial coins capture moments of Finland's traditional everyday life. Now this coin series, authorized by the Ministry of Finance in Finland, includes a coin for the Satakunta province. The Maakunta coins series depicts elements of the everyday life in Finland's historical provinces.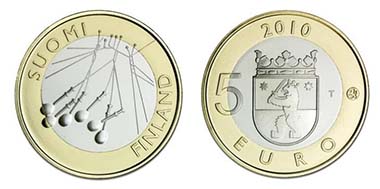 Finnland. 5-Euro. Mintage: 30.000 – 9.8 g – 27.25 mm – Designer: Nora Tapper.
The Satakunta five euro coin depicting lace-making on the obverse is the second in the series. The reverse side of all Maakunta coins depicts the coat of arms of the historical province and the indication of their value, €5. The obverse side of the coins was designed by the sculptress Nora Tapper. There are nine historical provinces: Åland, Tavastia, Karelia, Lapland, Ostrobothnia, Satakunta, Savonia and Uusimaa and Finland Proper. In October the first coin in this series was released for the province of Finland Proper.
The Satakunta coin demonstrates pride in a cradle of Finnish culture. Satakunta has been inhabited for at least 7.000 years – the first signs of life date back to the Mesolithic period and Suomusjärvi culture.
"Our Maakunta coin series commemorates each and every Finn. Every Finnish province has its own proud and remarkable traditions. Satakunta's thousand year old history and its tradition of making beautiful lace are conveyed in the coin minted to commemorate it," explains Paul Gustafsson, CEO of Mint of Finland.
The Satakunta tradition of lace-making can be seen each year, for example, at Rauma's summer lace weeks.
The face value of the provincial coins is five euros and a total of 90.000 circulation coins and 30.000 proof quality coins will be minted.
You can now purchase a Satakunta provincial euro at face value from post offices around Finland. You can also buy polished and proof quality Satakunta coins from Mint of Finland's webstore and from retailers.
If you want to see, how laces used to be made, click here.
For more details on the Mint of Finnland, click here.