[bsa_pro_ad_space id=4]
September 11, 2014 – In 2010 the Spanish Royal Mint started a series of 2 Euro commemorative coins dedicated to the Spanish sites in the UNESCO's World Heritage List. The first three coins were dedicated to the historic centre of Cordoba, to the Alhambra, Generalife and Albaycín in Granada and to the Cathedral of Burgos, which were declared UNESCO World Heritage sites in 1984.
That year seven properties built by the architect Antoni Gaudí were also declared World Heritage, under the joint denomination of Works of Gaudí. These monuments represent an eclectic, as well as a very personal, style which was given free reign in the design of gardens, sculpture and all decorative arts, as well as architecture.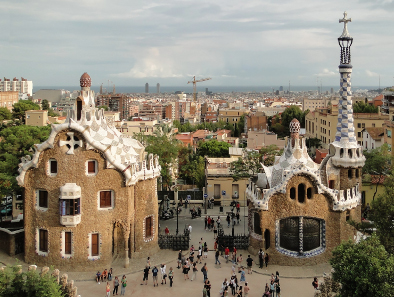 Two buildings at the entrance of Park Güell. Photo: Bernard Gagnon/ http://creativecommons.org/licenses/by-sa/3.0/deed.en.
The coin is included in BU quality in the 2014 Euro Circulation Coin Sets and in proof quality in the 2014.
Click here to visit Park Güell online.
If you're interested in Spain and its numismatic history, take a look at this numismatic travel diary through Northern Spain by Ursula Kampmann, published in CoinsWeekly!