[bsa_pro_ad_space id=4]
Naville Numismatics Live Auction 59
Naville Numismatics presents its Live Auction 59. The auction will close on Sunday 26 July 2020, 16.00 UK time, at which time the live session will begin. Absentee bidders can bid electronically through Naville Numismatics website from the day the sale is published online up to the start of the live session.
The auction features a selection of 905 lots of Greek, Roman, Byzantine, Medieval and Modern coins, all chosen with contribution from NAC's experts.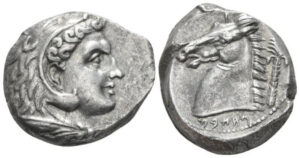 The sale begins with a selection of coins, including bronzes and fractions, from Magna Graecia, Sicily and Greece, some of them from the E.E. Clain-Stefanelli collection sold in association with Stacks Bowers Galleries.
This section of the sale includes coins with important pedigree and offers an attractive series of rare and beautiful coins from Populonia, Cumae, Neapolis, Tarentum, Metapontum, Thurium, Caulonia, Croton, Scylletium, Agrigentum, Entella, Eryx, Morgantina, Nakona, Syracuse, Athens and Corinth, even beyond a selection of Alexander III and Hellenistic portraits of Seleucid, Parthic, Sasanian and Ptolemaic kings.
Highlights include a beautiful tetradrachm of Leontini, a rare tetradrachm of Syracuse signed by Eumenos, and a rare dinar of Vasudeva I sold by Christie's in 1986.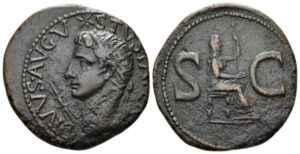 The Roman selection boasts an interesting series of Roman Republican bronzes and a striking array of denarii.
This includes a double bronze (Ex NAC sale 100, 2017, 190), a beautiful sextants (Crawford 38/5), a well struck denarius of L. Calpurnius Piso Frugi, a beautiful denarius of C. Mamilius Limetanus, a scarce denarius of M. Plaetorinus M.f. Cestianus (ex NAC sale 72, 2013, 1198), a rare denarius of I. Caesar and A. Allienus and a very well preserved as of Octavian.
In this part, there is also an interesting selection of Republican portraits such as I. Caesar, Octavian and Marcus Antonius.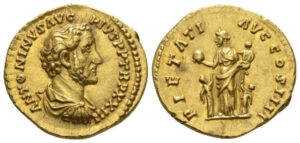 The Imperial selection of the sale features an attractive series of Augustus, a scarce sestertius of Nero Claudius Drusus, a well struck sestertius of Nero, a rare denarius of Vitellius, a rare denarius of Domitian, a beautiful sestertius of Marcus Aurelius, a rare sestertius of Gordian II, a very rare sestertius of Caracalla, even beyond a selection of solidi, siliquae, denarii, tetradrachms, sestertii, dupondii, asses and folles, which includes Tiberius, Gaius, Claudius, Nero, Galba, Vespasian, Domitian, Trajan, Hadrian, Antoninus Pius, Marcus Aurelius, Commodus, Septimius Severus, Julia Domna, Caracalla, Geta, Elagabalus, Gordian III, Philip I, Philip II, Trajan Decius, Diocletian, Maximianus I, Constantius I, Maxinus, Licinius, Constantine I, Constantius II and Valentinian III. They are also remarkable such as an aureus of Trajan (ex NAC sale 78, 2014, 2208) and an aures of Antoninus Pius.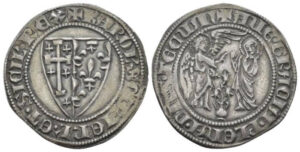 In addition, the auction presents an interesting and beautiful selection of Byzantine, Medieval, Modern World coins with important highlights and, plus a very well preserved copy of the Description historique des monnaies frappées sous l'empire Romain communément appelées médailles impériales (Deuxième édition) of H. Cohen.
The Roman Provincial part of the sale includes a selection from a German collection, some of them also from the Dattari collection.  It is composed of Alexandrine coins from Octavian to Galerius with various types of obols, diobols, hemidrachms, and drachms featuring rare portrayals of ancient divinities.
Naville Numismatics Ltd's partnership with NAC guarantees highly professional numismatic service and certifies an unlimited warranty of authenticity for the lots it sells.
If you have not already done so, consider to register as a member on the website.
Lots can be viewed in the Naville Numismatics office in London, by prior appointment only. During the Live session you can see current lots and bid in real time, making it an easy and fast way to participate in the auction. Should you have any questions, please call Naville Numismatics at +442033028770 or send an email.
All lots of this auction are available on the Naville Numimatics website.