[bsa_pro_ad_space id=4]
March 5, 2015 – From the Paleozoic to the present, from arthropod to Homo sapiens: the collector of Nano Life holds the entire evolution of life on earth in his hands. Coin Invest Trust has successfully captured 542 million years of evolution on just one coin.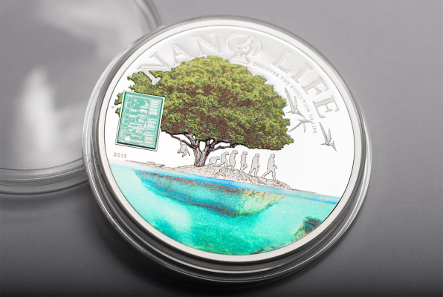 On the smallest possible area, Nano Life summarizes what we know about evolution on earth.
The trend-setting nanotechnology made it possible. Introduced in the 1970s, this technology is concerned with nanostructures, objects on the scale of individual atoms and molecules up to a maximum size of 100 nanometers. Ground-breaking results have already been achieved in informatics and medicine.
With the Nano Series this technology found its way into minting: under a microscope the viewer can access all the informative illustrations and summaries texts about our planet's evolution engraved on the tiny green chip.
Cook Islands / 2015 / 10 Dollars / Silver .925 / 50 g / 50 mm / Proof / Mintage: 1000 pcs.
Yet evolution's most important milestones are even visible to the unaided eye. As an embodiment of growth a large colored tree is shown in the center of the coin. This tree is located on an island that is surrounded by water in different shades of cyan. A creature is just leaving the water, crawling onto the island, thus conquering a new habitat. Pterosaurs, apes and humans follow up as representatives of the tree of life in which our existence is nothing more than a mere blink.
Chances are good that this coin will be sold out just as fast as its predecessors.
The coins are minted by B.H. Mayer's Kunstprägeanstalt GmbH. Collectors can purchase the issue through specialty dealers.
For more information on this coin or other coins designed by CIT please visit the website of Coin Invest Trust.
If you want to know more about evolution, we recommend this little video on youtube.