[bsa_pro_ad_space id=4]
June 30, 2016 – The Murrine Millefiori Glass Art series, designed by Coin Invest Trust for the Cook Islands, gives a new look to a glasswork technique with an old tradition. Like her predecessor, the second issue of the popular series is a fascinating fusion of shiny silver and coloured glass. The small heart-shaped inlay and the broad rim made of Millefiori glass make each coin unique.
Cook Islands / 5 Dollars / .999 silver / 20 g / 65 mm / Design: Coin Invest Trust / Mintage: 999.
The obverse depicts the Ian Rank-Broadley portrait of Elizabeth II of England as well as her name, the title of the issuing nation and the nominal value. The broad rim is ornamented with stylized flowers. The reverse features a convex, heart-shaped Millefiori glass inlay in its centre and a broad rim of the same material. The three-part inscription reads MURRINE MILLEFIORI GLASS ART and the year of issue.
Produced with state of the art technology, the Murrine Millefiori – Glass Art 2016 coin takes up an old glasswork technique that was already known to the Egyptians around 1800 BC.
A cup made of Murano glass. Second half of the 15th century. Photograph: Sailko / http://creativecommons.org/licenses/by-sa/3.0
From the 4th century BC onwards, the multi-coloured glass was mainly used to make bowls, which to the historian Marcantonio Sabellico in 1500 looked like a meadow with a thousand flowers – mille fiori. When glassmakers from Murano and Venice showcased the technique at the 1845 trade show in Vienna, its popularity began to spread to northern Europe as well. The glass is made of so-called murrine, thin slices of glass rods, which have been melted from several coloured strands into one single rod. The murrine, the cross sections of these glass rods, look like flowers or petals. By melting or enclosing them in glass bubbles, the glass flowers can be turned into vessels, jewellery and other precious objects.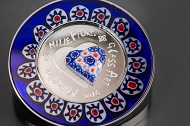 Coin Invest Trust joins through cutting-edge techniques the methods of glass production as they were known to the ancient Egyptians with coin minting.
For the Cook Islands, Coin Invest Trust has designed a second issue in the popular Murrine Millefiori Glass Art series. Like its predecessor, the Millefiori glass elements and low mintage render each coin a unique collector's piece. B. H. Mayer's Kunstprägeanstalt, Munich.
You can find further information on the Coin Invest Trust website.
In this video clip a Murano glass blower makes a horse figurine in a matter of seconds.