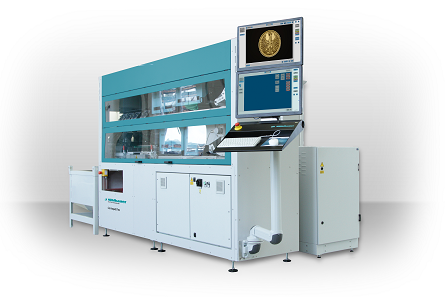 [bsa_pro_ad_space id=4]
April 19, 2018 – Mühlbauer's coin inspection technology is based on almost 20 years of experience. The latest solution Coin Inspect Flex offers different configurations and can exactly be adapted to the demanding requirements posed by the high speed inspection of used circulation coins, which implies two major tasks: detection of fake coins and coin fitness check.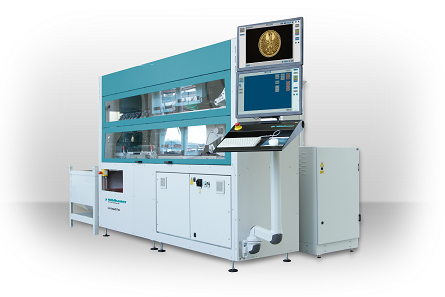 The new COIN INSPECT system. Source: Mühlbauer.
Different inspection methods are combined and their results are related to each other. Only this correlation enables a reliable assessment of the coin quality and a creditable decision whether a coin is genuine and suitable for further circulation or not.
Coin Inspect Flex employs mainly optical methods like inspecting the coin design including the edge area, checking the color, and determining diameter and thickness of the coin. Additionally, the material structure can be analyzed by verifying its electro-magnetic properties of the coin.
Up to 3000 coins/min can continuously be inspected in a two-lane transport. Each coin is always in a controlled movement during the entire inspection process. Up to seven inspection units per lane can be employed for quality verification. A standardized cassette system ensures maximum flexibility and easy maintenance.
Design, color, dimensions, and electro-magnetic properties are inspected to make sure that counterfeits and unfit coins are unfailingly detected. 100 percent reliable sorting Up to 4 reject channels are available to actively remove unaccepted coins from the belt and deliver then to the corresponding boxes. Coin separation and centering adjustments can easily be done by a nominal within a few minutes. Software settings are supported by reasonable templates and pre-views. Operation is intuitive.
You can find Mühlbauer's website here.
How the system actually operates is shown in this video.
Automated coin checking was also one of the topics of the Technical Forum 2018.