[bsa_pro_ad_space id=4]
Awards from a grateful Czar heaped upon the diplomat who negotiated the deal for the United States to buy Alaska from Russia are to be sold by specialist auctioneers Morton & Eden in London on Friday June 10, 2011.
'The Alaska Purchase' by Emanuel Leutze showing Edouard de Stoeckl standing before globe. Reproduced by kind permission of the Seward House Museum, Auburn, NY
The purchase of what eventually became America's 49th State occurred in 1867 following an all-night session of negotiation between US Secretary of State William H. Seward and Edouard de Stoeckl (1804-1892), Russia's Minister to the United States.
The Treasury Warrant in the amount of USD 7,200,000 for the purchase of Alaska, August 1, 1868. Reproduced by kind permission of the National Archives and Records Administration, Washington, DC.
America paid USD 7.2 million dollars for what was originally called the District of Alaska, an area twice the size of Texas. Critics called the purchase "Seward's Folly" and the land "Seward's Icebox", but the discovery in due course of gold, copper and oil proved it to have been a good investment.
Baron de Stoeckl's honours from a relieved Czar Alexander II, in financially difficult times, were considerable. They are expected to raise a total of around GBP 150,000 in the Morton & Eden sale, while those awarded later to his son, Alexander, are estimated to add a further GBP 25,000 to the total.
Edouard de Stoeckl was born in Constantinople and became a Russian diplomat, serving as Chargé d'Affaires in Washington following the death of the Ambassador Baron Alexander de Bodisco in 1854. In 1857, he was named Minister Plenipotentiary to the United States and, like his predecessor, de Bodisco, he married an American girl, Eliza Howard. The couple enjoyed a very active social life, with Eliza becoming the toast of the Imperial Court during a visit to Russia in 1860. Well-rewarded by Alexander II, both financially and with the honours in the sale, Baron de Stoeckl retired to Paris with his family in 1869.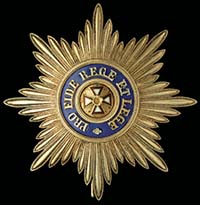 Lot 1041: The Order of the White Eagle.
The most valuable of his awards is expected to be the Order of the White Eagle set of insignia. This comprises a gold and enamel sash badge dated 1869, and a silver and enamels breast star, which are estimated at GBP 70,000-90,000.
Lot 1040: The Order of St Vladimir.
The Order of St Vladimir, Second Class of insignia comprising a gold and enamels neck badge and silver gilt and enamels breast star are estimated at GBP 30,000-50,000, while a First Class Grand Cross set of insignia of the Order of St Anne is estimated at GBP 10,000-15,000. An Order of St Anne Second Class neck badge in gold and enamels is estimated at GBP 4,000-6,000 and a First Class Grand Cross set of insignia of the Order of St Stanislaus is estimated at GBP 5,000-7,000.
Edouard's son Alexander ('Sasha') de Stoeckl (1862-1926) was named after Alexander II, his godfather. Able in later life to recall attending Lincoln's funeral, Alexander was educated mainly in Paris and joined the Diplomatic Corps on leaving school. He served at the Russian Embassy in Paris and married an Irish girl, Agnes Barron, in 1892. In 1897 he was offered the post of Equerry to Grand Duke Michael, whose morganatic marriage to Countess Sophie Merenberg (later Countess Torby) had taken place in 1891.
For several years the household spent winters in France and summers in England, memorably at Keele Hall in Staffordshire, where de Stoeckl was personally presented with a C.V.O. by Edward VII during the King's visit in July, 1901. The neck badge is estimated at GBP 400-600 in the sale.
Lot 1042: The Order of Noble Bukhara.
The de Stoeckls accompanied the Grand Duke on his return to St Petersburg to attend his father's funeral in 1909, following which the Emir of Bukhara distributed numerous gifts for his Imperial hosts. These included the Order of Noble Bukhara in diamonds awarded to Alexander (estimate GBP 15,000-20,000).
The de Stoeckl Orders will be offered as part of a sale of Russian Coins, Medals, Orders and Decorations British and World Orders and Medals from various owners, viewing for which is on Tuesday-Thursday, June 7-9 from 10am-4pm each day, or by prior appointment.
The auction's catalogue you can find online here.