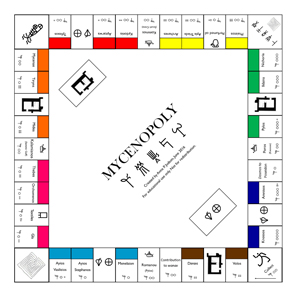 [bsa_pro_ad_space id=4]
by Annika Backe
October 27, 2016 – In prestigious Cambridge, Anna P. Judson contributes to a research project on Mycenaean epigraphy. When she leaves her office, though, her enthusiasm for the subject matter does not stop. She has translated the popular classical game Monopoly into syllabic script Linear B.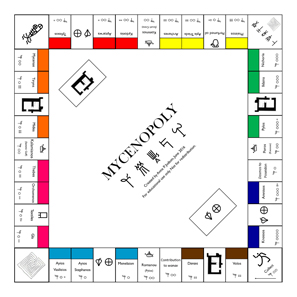 The game board of "Mycenopoly". Photo: © Anna P. Judson.
"Mycenopoly" – or, in Linear B, mu-ke-no-po-ru – has the same rules as Monopoly. The aim, however, is to gain control over as much Mycenaean sites as possible in order to gain goods from the other players. If a player controls a "kingdom", hence all sites of a group of the same color, he or she can begin to construct palaces. Another important goal is to gain control of ports and the production of perfumed oil and textiles.
"Mycenopoly" with cards and currency notes. Photo: © Anna P. Judson.
For "Mycenopoly", Anna P. Judson also created a whole new kind of money. It is based on barter and exchange. Each site is worth an equivalent of olive oil. Since transporting olive oil jars can be a stiff piece of work, there are also a sheep which are equivalent to 5 units of olive oil, a horse to 10 and a suit of armor to 100. The inventor of the game benefited from the fact that Linear B, in use between the 15th and the 12th cent. BC, had a decimal system of numbers. A horizontal line thus stands for 1 while a circle equals 100, for instance.
In her internet blog Anna P. Judson writes that "it's been an unashamedly nerdy ambition of mine for quite a long time to make a Bronze Age version of Monopoly". What she did not expect was the great response from interested buyers.
She told CoinsWeekly: "So far, I've had a real mixture of people asking for copies – mainly high school Classics teachers or university lecturers in Classics or Ancient History, but also a few homeschooling parents, the director of a summer school, and one person from a university museum – and from all over Europe and the US. I've also had enquiries from interested lay people/students but I am unfortunately having to restrict distribution to those wanting to use it to teach…"
If you are planning to use "Mycenopoly" in your lessons, you might soon be among the lucky ones who own a copy of this game. You will surely be envied by all other Bronze Age nerds.
We would like to thank Anna P. Judson for information and images.
Mrs. Judson's blog, with the relevant news, and her contact details can be found here.
For visiting the official Hasbro Monopoly website, please click here.
Anna P. Judson has her own academia.edu entry.
Her article "The Linear B Inscribed Stirrup Jars" can be downloaded here.
And more information about the Cambridge "Mycenaean Epigraphy Group" is available here.