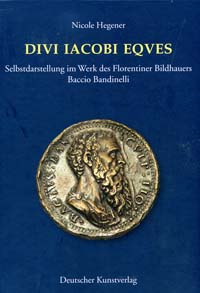 [bsa_pro_ad_space id=4]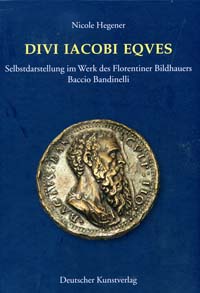 Nicole Hegener, Divi Iacobi Eques. Selbstdarstellung im Werk des Florentiner Bildhauers Baccio Bandinelli. Deutscher Kunstverlag, Munich / Berlin 2008. 784 pages with 330 b&w illustrations and 16 colour plates. Hardcover. Thread stitching. 22 x 30.5 cm. ISBN 978-3-422-06657-1. Euros 88.
March 2, 2010 – The well-known portraitist Leone Leoni created an intriguing medal in honor of Baccio Bandinelli. This sculptor unfamiliar to nearly anyone beyond art historians was one of the most famous of his era: he was the one that sculpted the hulky Hercules standing beside David on the Piazza della Signoria, for example.
Bandinelli came from the bourgeoisie and knew all the tricks of self-display to rise to the nobility. As a matter of fact, King Charles V did raise him to the noble Order of Saint James. The author traces the role the medal of Leone Leoni played in this self-display. Of course this is only one aspect of many in reconstructing the life of an artist of the Renaissance and the world of contemporary artists. A fascinating opus for anyone interested in Renaissance medals.