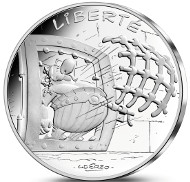 [bsa_pro_ad_space id=4]
October 29, 2015 – Symbols of France and of the French, Astérix and Obélix embody with simplicity, humor and pride the republican values. Monnaie de Paris now launches the second wave of the series "Astérix et les valeurs de la République", honoring the two national heroes that were created by Goscinny and Uderzo in 1959 for the launch of the Pilote magazine.
France / 10 Euros / Silver .333 / 17 g / 31 mm / Mintage: 125,000.
10 Euros Liberté GRILLE OBÉLIX: On this coin, Obélix illustrates regained liberty. He is freeing himself from a dungeon and breaks the gate with his belly. This drawing is extracted from Astérix and the Golden Sickle.
France / 10 Euros / Silver .333 / 17 g / 31 mm / Mintage: 125,000.
10 Euros Fraternité ROMAINS: This scene presents Astérix and the famous tragedian coming from Rome, Latraviata. It is a symbol of fraternity with Rome. This drawing comes from Astérix and the Actress.
Astérix and Obélix are ardent supporters of LIBERTY, and the Gauls use their resourcefulness and energy to fight any form of oppression. EQUALITY is a value that is very important in the series, whether in the village or between men and women. As the adventure progresses, the Gauls meet various peoples of Europe: The Swiss, The Normans, or the Hispanic… Those meetings which marked numerous episodes are an expression of FRATERNITY.
France / 50 Euros / Silver .900 / 41 g / 41 mm / Mintage: 50,000.
50 Euros PAIX IDÉFIX: On this coin, Idéfix appears holding an olive branch in his mouth. In the background we can see that a banquet is taking place, figuring peace within the village. This drawing is extracted from Astérix and the Banquet.
PEACE is a fragile and highly valuable value, always very difficult to reach. The olive branch is a representative symbol of this value. Another allegory of this value is the final banquet that always takes place at the end of the albums, gathering all the characters together. All these values are brought together; they keep their own importance, and form an entity, under the protection of the Republic (RES PUBLICA). Republic is the incarnation of Liberty, Equality, and Fraternity. Peace is the foundation of this set.
Albert Uderzo. Photograph: Georges Briard / https://creativecommons.org/licenses/by-sa/3.0/deed.en
Albert Uderzo was born on the 25th of April 1927 in Fismes. Uderzo started to draw early. As from his 14th anniversary, he did some illustrations for many youth magazines and then for the daily press: he became cartoonist reporter. In 1950, he worked with the scriptwriter Jean Michel Charlier with whom he created Tanguy et Laverdure. In 1951, he met René Goscinny with whom he created several series and comics.
René Goscinny. Photograph: Peters, Hans/Anefo / https://creativecommons.org/licenses/by-sa/3.0/nl/deed.en
René Goscinny was born on the 14th of August 1926 in Paris. He started his career as assistant accountant but when he turned 19, he became artist assistant in an advertising agency. After he met Uderzo, he steered towards scriptwriting. He is the author of Petit Nicolas (1959), and has launched Iznogoud in 1962. He died in 1977, at the age of 51.
For more information on this series, please visit the Mint's website.
Here you can find the website of the Parc d'Astérix, a fun park not far from Paris.