[bsa_pro_ad_space id=4]
June 23, 2016 – For millennia money has been a constant in human society. It is a persistent thread that entwines with politics, faith and warfare to allow us a window into past societies.
This free display at the British Museum, running through 9 October 2016 in Room 69a and supported by Citi, will explore the world of money, and individual everyday relationships with it, through a selection of objects drawn from over two thousand years of history. It will investigate several key financial concepts, including taxation, globalisation, inflation, assets, banking and debt.
Hand drawn counterfeit Swedish banknote, Sweden, 1868 © Trustees of the British Museum.
The Museum's rich and varied collection discusses the functions of economies and their impact on society. The display includes objects thousands of years apart that speak to one another, for example a Roman papyri referencing the repayment of a loan with a modern letter from a debt collecting agency threatening repossession.
The role of taxation is also addressed, focusing on its position in shaping society. While some taxes are broad, others are far more focussed.
Peter the Great 'Beard Tax' token, Russia, 1705 © Trustees of the British Museum
In the late 1600s, in an attempt to modernise Russian society and discourage the growing of facial hair, Peter the Great introduced a beard tax. Those who wished to grow a beard were taxed and given a token as proof of payment.
Elements of the display have been developed with students from George Mitchell School, Kemnal Technology College, The Children's Hospital School at Great Ormond Street and University College Hospital and young people from New Horizon Youth Centre, and address some areas of the citizenship, PSHE and business studies curricula.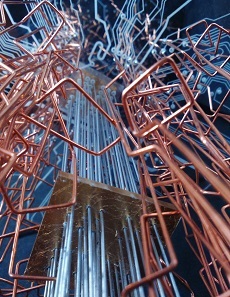 Detail from FIAT COIN by Olga Bagaeva, an original artwork created for the Money Matters exhibition. © Olga NotGraphic
The display also includes a specially commissioned piece by artist Olga Bagaeva, from Central St Martins, University of the Arts London. Her work looks at the intangibility of money by exploring the financial world through a series of unseen connections.
For more information go to the British Museum website.