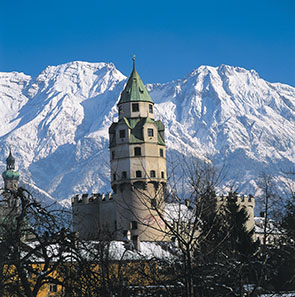 [bsa_pro_ad_space id=4]
February 10th, 2011 – A journey for all coin-lovers and numismatists: Visit Hall in Tirol, the Mint Town, and spend three days (two nights) on a journey of discovery through the Hall-Wattens holiday region. Aside from the world's first Thaler coin, spectacular coin presses and the world's biggest silver medallion – the Europe Thaler, the tradition-rich Hall Mint also greets you with its Crystal Stories exhibition on the stairway up the Mint Tower.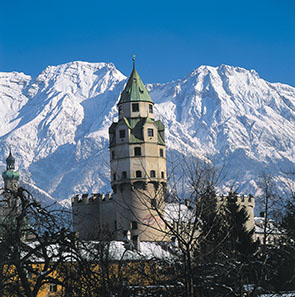 The Mint Tower, landmark of Hall.
Once at the top, you will be rewarded by magnificent panoramic views of the largest Old City in western Austria, and the imposing landscapes of Tyrol.
25 Euro 2003 Hall.
Yet another highlight for collectors: As a special extra, all participants in the Mint Trip receive the highly sought-after 25 Euro 2011 commemorative coin made of columbium and silver, and produced by the Austrian Mint. In 2011, the popular columbium series features the theme of "Robotics". In 2003, Hall in Tirol took center stage with the release of Austria's first columbium coin, already sold out well in advance. Nowadays, Austria's first columbium coin trades on the market for around 200 Euros.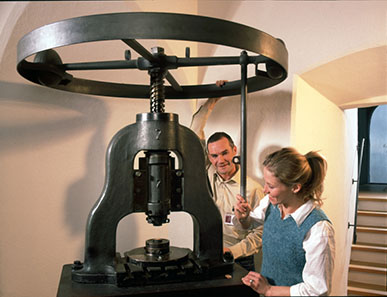 Balancier at the Hall Mint.
In addition to the 2011 columbium commemorative coin, every guest can also press out their very own silver piece (999/1000) at Hall Mint, a great souvenir of the spindle press.
Insights into the rich, ever-changing history of Hall in Tirol – a medieval town significantly influenced by its mint and by the salt trade – are afforded by a special guided tour through its secluded lanes and backstreets.
Mint Trip to the First Thaler & Modern Euro
Includes:
* 2 nights with breakfast or half-board
* official 25 Euro 2011 commemorative "Robotics" coin made of silver/columbium and produced by the Austrian Mint.
* commemorative medallion (1/4 ounce) of fine silver (999/1000) to press yourself
* admission to Hall Mint and the Mint Tower
* guided tour of the town of Hall in Tirol
* weekly program rich in variety
Bookable: 16 March – 31 December 2011
Price: from 119 Euro
Contact and Information Information: Hall-Wattens Regional Tourist Office, Wallpachgasse 5, A-6060 Hall in Tirol, Austria; Tel. +43 (0) 5223 45544-0, Email.
More details on the Mint Trip you will find here.
If you want to be fully informed about the fabulous Mint Museum in Hall, click here.
If you want to get a film impression on the beautiful city of Hall, click here.
If you are interested in all the numismatic detail the city of Hall has to offer you are kindly requested to read our main article here.