[bsa_pro_ad_space id=4]
September 29, 2016 – Mint of Finland has released a collector coin paying tribute to Finnish work. The Finnish Work collector coin is designed by Sauli Suomela and is minted in nominal values of EUR 10 and 20 by decision of the Ministry of Finance.
Finland / 10 Euros / Silver .500 / 10g / 28.5mm / Design: Sauli Suomela / Mintage: 10,000.
Of the minted Finnish Work collector coins, one hundred EUR 10 silver coins will be numbered. The numbered silver coins are mixed into the total mintage of 10,000 at random. The collector coins are made of Ag500/1000 silver, with a diameter of 28.5 millimetres and weight of 10 grams.
One hundred EUR 20 coins are numbered and sold separately packaged in a glass case. The maximum mintage of EUR 20 collector coins is 5,000. The collector coins are made of Ag925/1000 silver, with a diameter of 38.6 millimetres and weight of 25.5 grams.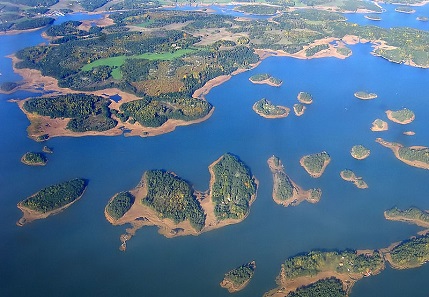 An aerial photograph of Naantali Archipelago, Finland. Photo: Plenz / https://creativecommons.org/licenses/by-sa/3.0/deed.en
The collector coin's designer, Design Manager Sauli Suomela of Pentagon Design, is pleased to see the finished collector coin. "As a starting point for the design process, I thought about Finnishness, along with the nature of work and its imprint on the world. These are highly abstract concepts, even though work is often concrete by nature. I tried to find a way to express both of these aspects in an interesting and understandable way," Suomela says.
According to Suomela, this design process led to a collector coin in which the fingerprint on the reverse symbolises individuality and the worker's hand. On the obverse, a tree sprouts from the same fingerprint. "The idea behind the design is that the mark of the human hand is the substrate and soil from which all things grow," Suomela explains.
According to Mint of Finland's Communications Director Henna Karjalainen, this is one of the most anticipated collector coins of 2016. "I feel that the appreciation of Finnish work is still growing and it is fantastic to be able to celebrate this subject through a collector coin. We mint the collector coins in our factory in Vantaa, so high-quality Finnish design and special minting expertise are close to our hearts," says Karjalainen.
She adds that Finnish work is also valued abroad, as exports play a considerable part in Mint of Finland's collector coin sales. The collector coin has also been granted the Key Flag Label of the Association for Finnish Work.
More information on this issue is available here.
This is the official Mint of Finland's website.
And interesting facts about Finland can be found on the website of the Finnish Ministry for Foreign Affairs.