[bsa_pro_ad_space id=4]
November 18th, 2010 – This giant coin cake was on display at the Royal Australian Mint in Canberra last week in celebration of Making it memorable – a launch of the Mint's 2011 gift range.
The cake, which was 1 metre in diameter, featured Australia's famous 'mob of roos' design as seen on the circulating $1 coin and was certainly a one-of-a kind release from the Mint. The giant cake had been on display at the Mint before moving to the Making it memorable product launch event happening on Saturday 6 November 2010 outside the Budawang Pavilion at Exhibition Park in Mitchell where it was cut up and shared.
2011 $1 Proof Australian Wool coin – Al/Bronze – 1 AUD – 9 g – 25 mm – Designer: Vladimir Gottwald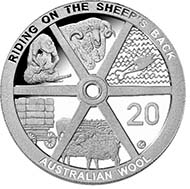 2011 20c Proof Australian Wool coin – Cupro Nickel – 20c (AUD) – 11.3 g – 28.52 mm – Designer: Vladimir Gottwald.
The Proof Australian Wool Set 2011 featuring two coins values the outstanding economic and cultural significance of Australia's wool production. It contains a one dollar Al/Bronze coin and a 20c Cupro Nickel coin.
If you want to see, how sheep shearing works, please click here.
2011 Blinky Bill Australian Baby Coin Set.
The 2011 Baby Coin Set chooses the famous Australian animated figure Blinky Bill from Dorothy Wall's books about a young koala as it's theme. The proof set includes a 40 mm pad printed Blinky Bill medallion and all six standard 2011 Australian circulating coin designs. A stunning proof finish combined with leatherette case and themed packaging makes it a perfect gift for the new born or a unique collectible from 2011.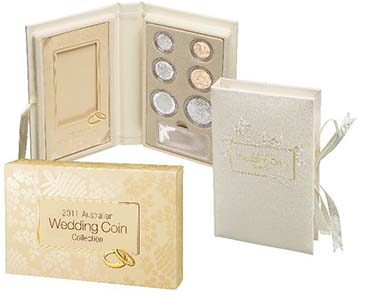 2011 Proof Coin Wedding Set.
The Australian Wedding Coin Collection would be a welcome gift in any new couples 'wishing well' when you are wanting to give something more personal than cash, as is the trend with modern weddings of today. The low mintages since the inception of this product, has created a perennial favourite amongst collectors seeking an exclusive opportunity of owning a proof year set with individually encapsulated coins.