[bsa_pro_ad_space id=4]
March 28, 2013 – 'Gangsters & Gunslingers – The Good, the Bad & the Memorabilia' brings together two defining chapters in the history of the United States that shaped America's national identity: the Wild West (mid 1860s to the late 1880s) and the wild years of the Prohibition/Depression era (1920s and early 1930s).
Clyde BP Vest (Bullet-Proof). This bullet-proof vest – never exhibited before in Britain – was found in the car in which Bonnie and Clyde were gunned down in 1934. The vest is punctured with bullet holes.
Each epoch produced legendary characters, which have become famous and infamous – Buffalo Bill, Calamity Jane, Bonnie and Clyde, to name but a few. For the benefit of the inhabitants of America's industrial eastern cities, homegrown 'western' heroes and villains performed acts of derring-do, penned by writers who had seldom (if ever) abandoned their urban comforts for the inconveniences of travelling to the frontier or even to small Midwestern towns.
The debilitating lives endured by many in squalid city sweatshops, unregulated factories, and cramped offices fuelled the mass market for 'real life' western adventure stories in dime novels, the pulps, and sensational newspapers. Individuals immortalised in print became victims of the popular fiction they inspired: their literary namesakes appeared more alive, even to them, than their all too frail corporeal selves. Just like the heroes in ancient tales, America's gangsters and gunslingers showed hubris and began to act as if they were indestructible. Their ends, however, were often anything but heroic.
For 'Gangsters & Gunslingers,' the American Museum in Britain will showcase treasures from the comprehensive Americana collection and Hollywood archive of David Gainsborough Roberts. Based in Jersey, Channel Islands, Gainsborough Roberts generously partnered the American Museum for its popular 2011 exhibition 'Marilyn – Hollywood Icon.' 'I am delighted,' Gainsborough Roberts comments, 'that so wide a range of items in my collection can be placed on view in such a magnificent, and appropriate, setting as the American Museum. The Marilyn show was spectacular fun. I have never seen my collection better displayed. I have no doubt that Gangsters & Gunslingers will be as moving and memorable – especially for anyone, who like me, wanted to grow up to be a cowboy!'
Historical artefacts and memorabilia from Hollywood's Golden Age in 'Gangsters & Gunslingers' include:
Chief Gall's War Club.
Native American weapons confiscated in reprisal for the Battle of Little Big Horn, Custer's Last Stand, (Montana Territory) in 1876, including a European trade rifle decorated with traditional beadwork and Chief Gall's war club.
Gall, whose wives and children had been massacred by the US Cavalry, was one of the commanders at this landmark battle. It was largely due to Gall's strategic planning that Custer's forces were annihilated. Gall later claimed that surviving soldiers shot themselves rather than face their Sioux and Cheyenne adversaries in the final stages of the battle. That white men should show such cowardice was repudiated by the authorities, who ruthlessly avenged this native victory.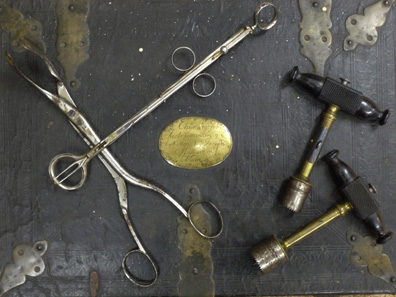 Doc Goodfellow's Surgical Instruments. This second-hand set of Civil War surgical instruments was used by Tombstone doctor, Dr. George Emory Goodfellow, to perform the autopsies on Billy Clanton and the McLaury brothers, who died in the Gunfight at the O.K. Corral (Tombstone, Arizona Territory) in 1881. Goodfellow never bothered to change the nameplate of the original owner of the surgical equipment.
The medicine bag owned by Doc Holliday, a survivor of the gunfight at the O.K. Corral (Tombstone, Arizona Territory) in 1881, containing the tools of his dental trade and a photograph of his uncle.
Holliday had moved West, hoping that the drier and warmer climate would help ease his tuberculosis. Here he made more money from gambling than dentistry and also gained, through hearsay rather than fact, a reputation as a ruthless and efficient gunfighter. To his surprise and amusement, he died in bed – with his boots off.
Clyde Barrow's Watch. The watch was worn by Clyde Barrow when he was gunned down with Bonnie Parker in 1934. Only part of the watch is intact because Clyde's hand was shot off in the ambush.
The watch worn by Clyde Barrow when he was gunned down with Bonnie Parker in 1934. Before the corpses had been taken away, a crowd of souvenir hunters gathered around the bullet-riddled car, tearing strips from the stained garments and cutting bloody locks of hair.
With their gang, Bonnie and Clyde robbed banks, small stores, and gas stations. As well as killing civilians, the gang shot nine lawmen. The petite and pretty Bonnie assured the gang notoriety in the press so that they became celebrity criminals. She was characterised as a cigar-chomping moll. The initial admiration at the gang's bravado quickly turned to public revulsion, as killing followed killing.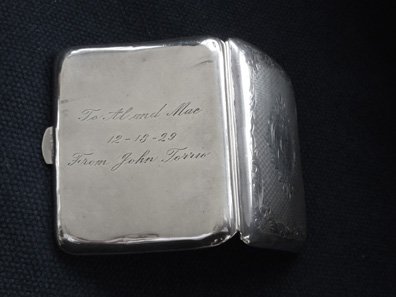 Al Capone's silver cigarette case, presented by Chicago mob boss John Torrio to his successor.
Silver cigarette cases presented by Chicago mob boss John Torrio to his successor, Al Capone, and by Bosie Douglas to his disgraced lover, Oscar Wilde.
Capone was the greatest of Chicago's crime lords during Prohibition and was almost certainly responsible for orchestrating the infamous St Valentine's Day massacre in 1927. During his trial for income tax evasion in 1931, Capone attempted to bribe and threaten those selected for jury duty. His scheme was discovered by Eliot Ness and his incorruptible band of federal agents, the legendary Untouchables. The jury pool was thus switched with one from another case. Capone had no time to act and he was consequently sentenced to eleven years in prison.
To launch Gilbert and Sullivan's latest operetta Patience in America – a satire on Aestheticism – the impresario Richard D'Oyly Carte paid Wilde to undertake an extensive lecture tour of the United States in 1882. To everyone's surprise (including his own), the flamboyant author and professional aesthete won over America – and the West – to such an extent that his lecture tour was extended into the following year.
Wyatt Earp's Gambling Dice and Secret Card Feeder. Wyatt Earp and his companions, including Doc Holliday, fought the Clanton and McLaury brothers at the Gunfight at the O.K. Corral (Tombstone, Arizona Territory) in 1881 – an iconic event in America's Wild West, which actually only lasted about thirty seconds.
Like the dime novels of the previous generation, Hollywood never let the facts get in the way of a good story. The silent film era rediscovered and refashioned the West in a potent new visual language. Many former cowboys became movie extras, other westerners drifted to Hollywood to become (usually unpaid) film consultants. One of these largely forgotten men was Wyatt Earp from Gunfight at the O.K. Corral. During his days in 'silent' Hollywood, Earp befriended the people who would later make him and his earlier brothers-in-arms immortal. A studio apprentice and a bit-part player brought Earp cups of coffee on set so they could listen to the old man's recollections of times past. Together, these two young men – the director John Ford and the actor John Wayne – would go on to create some of the greatest visions of the West ever committed to film and, by extension, an ideal of American masculinity.
In one of Wayne's most memorable collaborations with John Ford, the 1962 movie 'The Man Who Shot Liberty Valance,' a character observes: 'When the legend becomes fact, print the legend'. There has never been a better précis of how the history of the Wild West and the wild years of the Prohibition/Depression era have been represented and misrepresented in print and on film.
'Gangsters & Gunslingers – The Good, the Bad & the Memorabilia', on view from 23 March to 3 November 2013, investigates how facts gave way to the demands of popular fiction and how history became hearsay – the past imperfect.
For more information on the exhibition and the museum, please visit the website of The American Museum in Britain.
By the way, if you want to listen to that famous scene from 'The Man Who Shot Liberty Valance', you can do so on YouTube.
And if you are interested in the true story of Bonnie & Clyde, written down by Bonnie Parker herself, click here.