[bsa_pro_ad_space id=4]
January 14, 2016 – Every year people flock to Glastonbury Abbey, located in the English county of Somerset, and marvel at the location as a foundation of one of the first disciples of Jesus and the burial place of King Arthur. However, a team of experts has now revealed a sensation: For 900 years, everybody has fallen for a PR coup that dates as far back as the Middle Ages.
The former Benedictine Abbey of Glastonbury in the English county of Somerset. Photograph: IDS.photos, Tiverton UK /https://creativecommons.org/licenses/by-sa/2.0/deed.en.
For decades the ruins of Glastonbury Abbey have been the subject of archaeological research. A team led by Professor Roberta Gilchrist of the University of Reading has now re-examined the finds and documentation from the period between 1904 and 1979 using latest scientific methods. The scientists arrived at the conclusion that Glastonbury Abbey is not the burial site of legendary King Arthur, central figure of Arthurian romance and the legend of the Holy Grail: The complex is simply too young.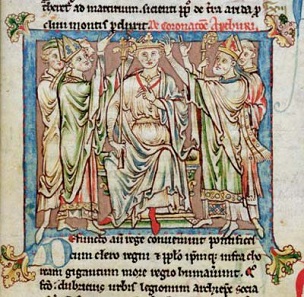 King Arthur, book painting from the Flores Historiarum by Matthew Paris, 13th century.
For starters, the allegedly early Christian cemetery is in fact of a later date than the Anglo-Saxon church which has been built in the 10th century. Secondly, the finds from the 'Tomb of King Arthur' at the Abbey's cemetery stem from the 11th to the 15th centuries. Therefore, it is clear to see that legendary King Arthur, who has died around 500, was actually not laid to rest at Glastonbury Abbey.
As a matter of fact, the entire story has been fabricated by medieval monks. When a fire destroyed their abbey in 1184, they were forced to find a new source of income. In order to attract visitors, they spread the rumor that Joseph of Arimathea had founded Glastonbury and that the place was indeed the burial site of King Arthur. Furthermore, the monks designed the rebuilt of the abbey to make it look older. The clerical coup was successful, and thanks to the money of the pilgrims Glastonbury became the country's second-richest abbey.
Plate indicating the former location of the tomb of King Arthur and Queen Guinevere at Glastonbury Abbey. Photograph: Tom Ordelman / https://creativecommons.org/licenses/by-sa/3.0/deed.en.
Is Glastonbury in any immediate danger of becoming destitute a second time, due to a shortage of visitors? The experts, at least, do not think so. In all likelihood, the abbey will continue to attract legions of tourists which may now chuckle about the resourcefulness of the medieval monks: It has always been a smart move to use history to get hard cash.
Please find out more about the current archaeological research here.
This is the website of Glastonbury Abbey.
On Wikipedia, King Arthur has his own portal and his own project.