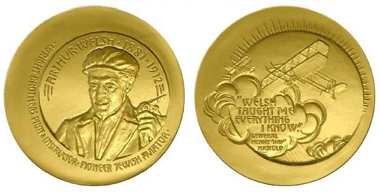 [bsa_pro_ad_space id=4]
July 19, 2012 – The Jewish Historical Society of Greater Washington is issuing art medals commemorating pioneer American Jewish aviator Arthur Welsh (1881-1912). The medals have been issued in conjunction with a public reception, symposium and exhibition on June 12th at 7:00 PM at the College Park Aviation Museum in College Park, Maryland – almost exactly a century after Welsh's tragic death while testing a military plane at the College Park airfield. The event featured speakers and the dedication of a commemorative sign honoring Welsh's unique place in aviation history.
The large 2 1/4 inch art medals, sculpted by noted medallist Alex Shagin, feature a portrait of the young aviator and the quote "Welsh taught me everything I know," from the autobiography of Henry H. (Hap) Arnold, who later became a five-star General and the U.S. Army Air Chief of Staff during World War II. Medals are available in limited editions of bronze (180 maximum), silver-plated bronze (150 maximum) and gold-plated bronze (50 maximum), at the issue prices of $50, $75 and $100, respectively, including a Certificate of Authenticity and a stand. Orders can be placed by calling 818-225-1348 in USA or emailing.
Laibel Wellcher was born on August 14, 1881, in Russia, one of six children. In 1890 the family immigrated to Philadelphia, where Laibel attended public school and Hebrew school until the death of his father. In 1898, after Laibel's mother remarried, the family moved to Washington.
A few years later, Laibel joined the Navy, giving his name as Arthur L. Welsh. After serving on the U.S.S. Hancock and U.S.S. Monongohela, he received an honorable discharge as a Seaman. In 1909, Arthur Welsh resolved to become a pilot after watching Orville Wright's public demonstrations of the Wright Military Flyer – and he was later accepted as a student.
In March 1910, Welsh entered the first class of the Wright Flying School in Montgomery, Alabama. A few months later, he trained directly under Orville Wright at Huffman Prairie, near Dayton. Welsh became a trusted and skilled pilot – a notable achievement given the difficulties of flying a Wright plane. By summer he had become a flight instructor at the Wright Flying School in Dayton Ohio and part of the first Wright Company exhibition team.
Al Welsh & G.W. Beatty c.1911. Photo: Bain News Service / Wikipedia.
Throughout 1910 and 1911 Welsh participated in exhibition flights around the country for the Wright Company and quickly established several American records for speed and altitude. At the International Aviation Meet at Grant Park in Chicago in August 1911, Welsh won a $3,000 prize as the first aviator to fly more than two hours with a passenger.
In May 1912, the Wright Brothers sent Welsh to the U.S. Army Aviation School at the College Park Airfield in Maryland to serve as a civilian test pilot for a new plane on order from the War Department. Welsh made 16 official test flights of the new Wright C airplane during May and June 1912. On June 11, 1912, Welsh, accompanied by Lieutenant Hazelhurst, made a final attempt to meet the loaded-climb test. Taking off at 6:00 PM, the plane climbed to about 200 feet and then dove downward at a steep angle to gain momentum to assist the climb. The airplane stalled and crashed into a field of daisies. Both men were killed instantly, the first fatalities at the College Park airfield. Orville Wright and Lieutenant (later General) Henry H. Arnold were pallbearers at the funeral.
Footage material of Wilbur and Orville Wright testing the first plane prototype still exists.
Visit the site of the College Park Aviation Museum to find many information on the history of aviation.
This very nice and informative online exhibition is dedicated to aviator Arthur L. Welsh.