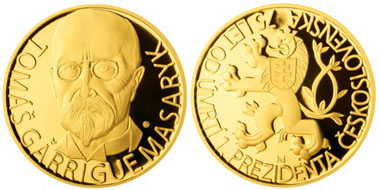 [bsa_pro_ad_space id=4]
November 15, 2012 – On September 13, 1937 the philosopher and first president of the then newly founded Czechoslovakia, Tomás Garrigue Masaryk, died. This significant person of European history is commemorated by a medal in silver and gold struck by the Czech Mint.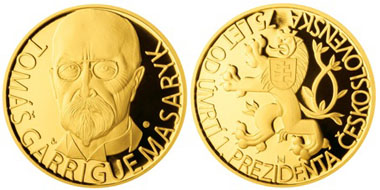 Czech Republic / .9999 Gold / 37 mm / 31.1 g / Design: Jan Hásek / Mintage: 150. // Silver edition: .999 Silver / 37 mm / 31.1 g / Design: Jan Hásek / Mintage: 500.
The medal's obverse shows a portrait of the honoured in front view. The legend gives his complete name: 'TOMÁS GARRIGUE MASARYK.'
On the reverse stands the Czech double-tailed lion with a small stylised breast shield featuring the double-cross standing on three mountains, emblem of Slovakia. The inscription runs: '75 LET OD ÚMRTÍ 1. PREZIDENTA CESKOSLOVENSKA' (75 years from the death of the first President of Czechoslovakia).
Long before the outbreak of World War I there had been turmoil in the Habsburg Empire. The multiethnic state did not succeed in finding a way of how to integrate its citizens, while particularly the national minorities were claiming more rights, autonomy or independence.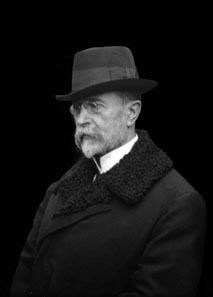 Tomas Garrigue Masaryk, December 21, 1918. Photo: Josef Jindrich Sechtl / http://creativecommons.org/licenses/by-sa/3.0/deed.de.
The Czechs were lucky, as there was the right person at the right place: Tomás Garrigue Masaryk, who promoted the creation of a Czechoslovakian state.
Born in 1850, Masaryk came from a rather poor background but managed, nevertheless, to go to college and eventually read philosophy at university. After his doctorate he made an academic career at first, teaching in Vienna and Prague. In 1878 he married an American, sociologist Charlotte Garrigue whom he owned much more than only his second name, Garrigue.
Since the 1880s, anyway, Masaryk had become a political activist too. Thus, when in 1914 World War I begun changing Europe profoundly, Masaryk seized the opportunity and with great personal dedication worked towards a new state of the Czechs and Slovaks. Restlessly he travelled through whole Europe in his efforts to gain allies. When he heard, though, that he faced arrest after his return to his native country, Masaryk remained abroad. There he was elected chairman by the National Committee of the Czechs, a form of provisional government in exile.
Soon the allies accepted this political committee as legitimate representative of a future state. With support of France and the United States a new state was created concurrently with the peace treaty that the Austro Hungarian Empire was forced to accept on October 28, 1918. Hence, this was at the same time the official foundation day of Czechoslovakia whose first president Tomás Masaryk was to be. It was an enormous challenge, however, to actually realise such a state that would unite Czechs, Slovaks, and various minorities – in particular the Sudeten Germans, but also Hungarians und Ukrainians. To this aim it was a real godsend that the first president was a man like Masaryk. He spoke Czech and German and was particularly seeking to conciliate the minorities. With circumspection he earned himself everybody's respect. This fact is testified by his re-election as president in 1920, 1927 and 1934. On September 14, 1937 aged 87 Tomás Masaryk died.
By many Czechs Masaryk is still being considered one of the most important figures in Czech history. A 2003 poll confirmed him, indeed, to be the most significant Czech next to Jan Hus or Charles IV.
The medal's reverse shows the Coat of arms of Czechoslovakia, the state founded by Masaryk, as it was – e.g. on coins – in use between 1920 and 1960.
The medals were designed by Jan Hásek. The silver medal is limited to a mintage of 500 pieces, of the gold version only 150 pieces have been struck.
More information on this medal offers the website of the Czech Mint.