[bsa_pro_ad_space id=4]
January 26, 2017 – Designed by Coin Invest Trust for Palau, the commemorative coins in honour of the coral hind are the penultimate issues of the highly successful "Marine Life Protection" series, in which more than 50 coins have been issued since 1992. Available in gold, copper, and silver the last of which features an unprecedented relief height thanks to smartminting© technology.
Palau / 5 Dollars / Silver. 999 / 25g / 38.61mm / Mintage: 1500.
The obverse shows two mermaids, one bedded on a rock, the other in the water, holding a conch shell in her hands. Further engraved are the name of the issuing nation, nominal value and the year of issue.
In the characteristic style of the series, the coral hind is depicted in front of a coral, rendered in colour on the silver and copper edition. Above, the name of the series MARINE LIFE PROTECTION and below, the species name CEPHALOPHOLIS MINIATA.
The series
With more than 50 editions, the "Marine Life Protection" series, which has been in existence since 1992, is the longest running commemorative coin series worldwide. This makes it perfect to read off the technical progress of colour application that has been made since its introduction in the 1990s. Dedicated to the inhabitants of the tropical oceans, every year one edition presents a different species. Issued by the South Pacific island nation Palau and fittingly complemented by mermaids on the reverse, the respective animal is cast in colour and heightened relief. In 2017, the very last coin in this series will be issued.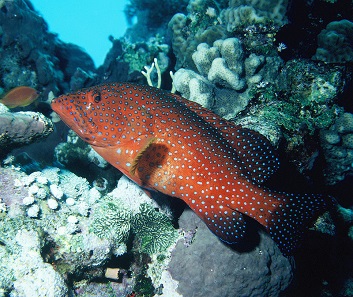 Coral hind. Photo: albert kok – ma photo / Wikimedia Commons / CC BY-SA 3.0.
The motif
The coral hind populates the seas from the Red Sea to South Japan, reaches a size of up to 50 cm. First scientifically described by Peter Forsskal in 1775, the adult coral hind is characterised by a bright red body covered in little blue spots. Due to its intense colouring the animal is also called "strawberry fish". The coral hinds are born female and later develop into males. They preferably feed on smaller fish and shellfish.
Marine Life Protection 2016 – Coral Hind.
Coin Invest Trust dedicates a coin, available in a gold, silver, and copper silver-plated edition, to this conspicuous marine predator, which features a stunningly high relief on the silver edition thanks to the innovative smartminting© technology.
The coin is minted by B. H. Mayer's Kunstprägeanstalt GmbH. Collectors can purchase the issue through specialty dealers.
Further information on these coins is available here, here and here.
This is the Coin Invest Trust website.
And a Coral Hind in action is shown in this YouTube movie.