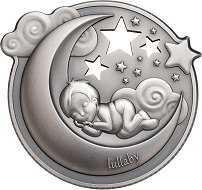 [bsa_pro_ad_space id=4]
July 26, 2018 – Are you still looking for a gift for the latest addition to the family? CIT Coin Invest has produced a coin for the Cook Islands which is more than just a collector's object put away in a drawer. The exquisitely crafted coin can be turned into a musical box in the blink of an eye.
Cook Islands / 5 Dollars / .999 Silber / 1 oz. / 38.61 mm / Mintage: 999.
One thing must be stated up front: This coin alone, due to its complex minting technique, would make for a collector's object of the highest order. The obverse features the portrait of Queen Elizabeth II, as the Head of State of the Cook Islands, in a vignette, the nominal value (5 Dollars) and the year of issue (2018). The vignette is inserted into a magnificent starry sky, whose stars twinkle and shine against the dark, antique-finish background. A large cloud and a large star break up the coin's edge, turning the round blank into an irregularly shaped coin, which, on top of that, also features three star-shaped cut-outs. The technology behind that was specifically developed by CIT Coin Invest AG. It was first used on the multiple award-winning "Crying Wolf" coin of the "Mongolian Nature" series. The obverse shows a three-dimensional crescent moon, realized with smartminting technology, with a little boy on it, curling up to go to sleep. The background features clouds and stars.
So far so good. Many collectors should feel attracted by this culmination of minting technology gimmicks. But it would be a shame for this product to end up stuffed in a coin cabinet. CIT Coin Invest has come up with a very special wrapping which fits the coin perfectly and brings it to life. The coin inscription lullaby becomes real once you open the box that comes with the coin. To the melody of "Brahm's Lullaby", the coin starts turning in front of a mirror, reminiscent of the 19th century musical boxes with their turning ballerinas. Those of you who have tried to rock an upset baby to sleep will appreciate the hypnotic effect of the regularly turning coin. It fascinates and calms any baby.
CIT Coin Invest AG has created a product that transcends the boundaries between collector and wider audience. The coin becomes a much-beloved and often used part of the nursery. After all, CIT stands for "Creativity", "Innovation", and "Trust" for a reason. CIT Coin Invest cannot guarantee that all children lulled to sleep by the melody of this numismatic musical box will become coin collectors one day. But there's a fair chance.
If you want to get a closer look at this coin and how beautifully it turns in its musical box, watch this clip produced by CIT.
To learn more about the coin visit the official CIT website.
Numerous musicians and choirs have tried their hands at Brahms's lullaby. You can find a beautiful version performed by the German violinist Anne-Sophie Mutter here.