[bsa_pro_ad_space id=4]
by Ursula Kampmann
translated by Annika Backe
October 5, 2017 – It's a stylish area where, at Millennium Hotel overlooking Grosvenor Square in London's Mayfair district, the annual Coinex takes place, organized by the British Numismatic Trade Association BNTA. Its good reputation harking back as early as the 1970s and 1980s, it attracts visitors and exhibitors from throughout Europe and overseas. This bourse, however, belongs to the insider's tip category, for there is hardly any promotion for it outside of Great Britain and the information available on the internet includes nothing more than the date, venue, and entrance fees.
Coinex impressions. Photo: UK.
That's a pity, for the Coinex is really a rewarding coin fair at which you can find a great variety of interesting coins, medals, and ancient objects. What's more, since the pound currently falls low it virtually invites you to purchase, and flights to London are frequent and inexpensive.
And so the 39th Coinex took place from September 22 to 23, 2017. The visitor experienced a classical style coin fair. Two marvelous halls decorated with carpet floor. Wide aisles, without any danger of pushing and shoving. And a limited number of exhibitors who took their time to carefully advise their customers.
Coinex impressions. Photo: UK.
The number of dealers limited was not because no other companies wanted to participate in the Coinex. The booths were completely booked. Rather, the BNTA prioritizes quality over quantity.
The rooms therefore were never crowded, for a sophisticated entrance fee system distributed the visitors perfectly. Customers pay £30 for the first hours of the bourse on Friday from 11 a.m. to 1 p.m. Starting at 1 p.m., this price is reduced to £5. On Sunday, entrance is free.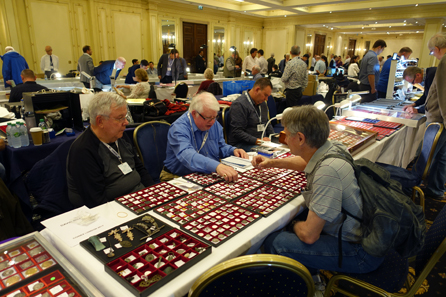 Coinex impressions. Photo: UK.
One of the traditional foci of the Coinex is Celtic and Roman coins, and archaeological finds. Purchasing is a real pleasure here, for all those who, as detectorists, make special discoveries in England find themselves in a quite comfortable position. If the state does not exercise its right of pre-emption, the finder and the owner of the land can share the finds and sell them absolutely legally. So, any Coinex visitor buying a Roman coin stemming from a find made in Britain may import and export it, in perfect accordance with the strictest regulations of any given Law on the Protection of Cultural Property.
At the booth of Baldwin's of St. James's. Photo: UK.
The collector of English coins and medals of course finds a great deal of worthwhile material at the Coinex. But that is not the only reason to spend your time in London at the end of September / beginning of October. Roughly coinciding with the date of the Coinex, there are other coin auctions held in London. This year, the following ones were inviting: Baldwin's of St. James's, Roma, and Dix Noonan & Webb.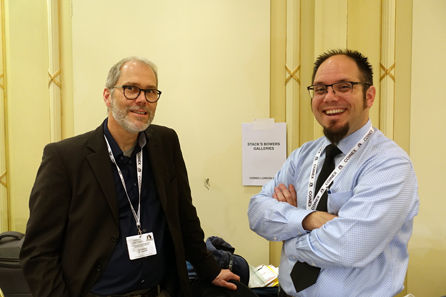 Arne Kirsch (l.), representative of Sincona and President of the IAPN, facing Kyle Ponterio of Stack's Bowers Galleries. Photo: UK.
Numerous dealers from Great Britain and abroad attend the Coinex because IAPN committee meetings are held here on a regular basis. Adding to this was a public presentation of the International Association of Professional Numismatists this year. The IAPN conferred its book prize. It went to a German book we have already introduced in CoinsWeekly. Andreas Pangerl, editor of '500 years of Roman Coin Portraits', proudly accepted the prestigious award.
For more information on the book and how to order it, please click here.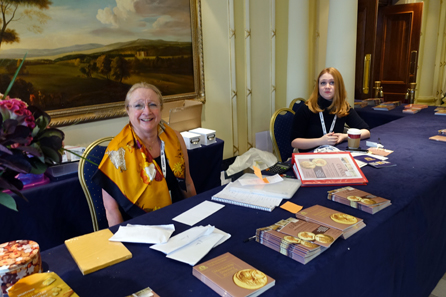 The friendly Coinex organizing team even spoke perfect German! Photo: UK.
The Coinex thus was and continues to be an international coin fair that is worth a visit – even if you have to look up the actual date once or twice on the internet. And don't make your reservations too much in advance. After the announcement of the date, it has sometimes been changed in the past…
To have a look at all information available on the Coinex, please click here.