[bsa_pro_ad_space id=4]
November 2, 2017 – For starters, don't think that you can trudge round all the major coin dealers in just one afternoon, as in Munich, Zurich or Paris. At a time when all these cities were still dozing in bourgeois tranquility, London was already a city of international rank. London is huge, and even the most agile coin enthusiast fails because of the great distances he has to bridge from one numismatic dealership to the next.
Inside the British Museum: the foyer. Photo: UK.
In this report on numismatic London, we will thus limit ourselves to a small area, as an example, which everybody with an interest in numismatics will probably visit. Or aren't you planning on visiting the British Museum? If not, you better start thinking about it, for it is home to one of the world's largest coin collections. If you register in time, you can come to the coin room, to be shown the coins you find the most intriguing. For those who decide on the spur of the moment, the British Museum not only offers an excellent permanent exhibition, but also a hall with temporary exhibitions.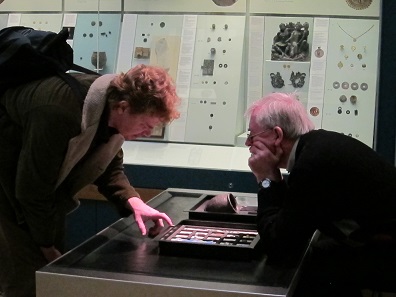 Hands On – a very special kind of handling the past. Photo: UK.
Developed by the British for their museums, the Hands On principle is particularly remarkable. It enables visitors not only to look at historical objects, but also to take them into their own hands. Desks with selected objects have been installed for this purpose in individual sections of the museum, including the Department of Coins and Medals.
Right across the street from the British Museum is the firm Coincraft based: a coin shop many collectors dream of. Photo: UK.
Those who prefer to buy coins rather than look at them leave the museum temple through the main portal, to find themselves standing directly in front of the entrance of Coincraft, a coin shop beyond the wildest dreams of people; because Coincraft has a huge stock, a stock that has been assembled over many decades and offers a lot of surprises.
Philip Skingley invites you to visit the shop of the numismatic dealership. Photo: UK.
Coincraft has started in 1955. The shop located directly opposite to the British Museum belongs to Richard Lobel, owner and director of Coincraft since 1976. He takes pride in emphasizing that he doesn't have to borrow from the banks when acquiring. And on his website he announces that he would not sell a single coin as an investment. Richard Lobel loves collectors. And collectors love him and his newspaper 'The Phoenix'. Published every three weeks, it is still Coincraft's most important coin distributing instrument.
Browsing this coin shop is a very special experience. An experience we can only recommend. It has everything – from ancient coinage to the latest releases, covering the entire numismatic spectrum including banknotes, tokens, and medals.
Spink, founded in 1666, has been based here since 1927. Photo: UK.
It is something else altogether to walk around the corner to visit Spink's headquarters. Spink almost is a site in itself. After all, this company was founded in 1666 and has been housed in the magnificent, multi-storey building on the corner of Duke Street and King Street since 1927. Auctions are held here on a regular basis. Stamps, precious books, autographs as well as fine wines are sold, rounded out by coins and medals since 1927. But there is even more to the numismatic spectrum of Spink. You can find specialized departments for orders, banknotes, and stocks.
The visitor is given a warm welcome in the spacious entrance area. Photo: UK.
Spink went public in 1962. A small indication of how big this company really is!
However, the visitor should not expect to see an extensive numismatic warehouse. In the impressive entrance area there are some exhibits, but they rather should be marveled at than actually be bought.
Instead, you can acquire numismatic books. After all, Spink is still one of the most important numismatic publishers. And if your suitcase has some space left, you will certainly find an interesting book or two at Spink.
The famous Spink auction hall. Photo: UK.
In order to pay, you must then go into the basement, which offers you the opportunity to catch a glimpse into the auction hall right next to the cash register. Perhaps the supervisory staff lets itself be persuaded to allow you to make a selfie: you standing at the auction desk, imagining calling out an Athenian decadrachm.
The London office of Classical Numismatic Group. Alexandra Spyra is in charge here. Photo: UK.
The London branch of CNG, Classical Numismatic Group, which is headquartered in Lancaster, United States, is also close to the British Museum. But beware, Alexandra Spyra only grants you entrance if you have made a prior appointment by phone. This company is not geared to drop-in customers.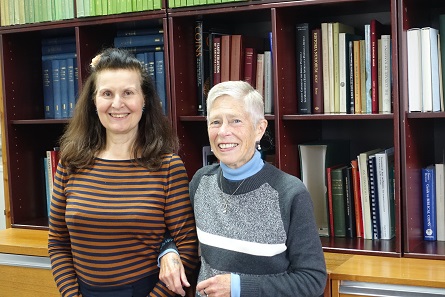 A friendly team looks forward to welcoming REGISTERED visitors. Photo: UK.
There is no warehouse, but a very friendly team that advises customers who prefer to deliver or pick up their coins in London rather than in the United States.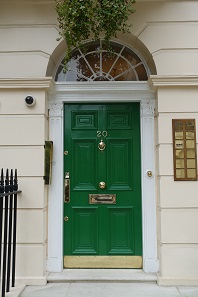 Located at elegant Fitzroy Square: the offices of young auction company Roma Numismatics. Photo: UK.
A little further away, but still within walking distance, is Fitzroy Square, where the offices of young auction company Roma Numismatics are located. Under the leadership of Richard E. Beale, the numismatic dealership has gained a high reputation in the department of ancient coinage in recent years. The active team organizes two public auctions per year and ten e-auctions with high-quality coins.
Intense pre-auction activity at Roma. Photo: UK.
Roma considers itself today Great Britain's most important auctioneer of ancient coins, and is likely to be right. From time to time, it also offers coins from the Middle Ages and the Islamic world.
This was only a tiny fraction of London's current numismatic spectrum. But the four coin shops are typical of what awaits you in the new coin trade capital.
Here you can still find the classic coin shops of old style with a comprehensive stock, like Coincraft. It is worth browsing if you look for interesting discoveries.
Then there are of course the many auction houses from every part of the world that maintain a branch in London. As a general rule, they don't have a shop, and you should call in advance, for the offices are not manned the entire time.
In London you will find the traditional auction houses such as Spink, but also fresh, young, up-and-coming companies such as Roma Numismatics.
They all make sure that numismatics boom in London.
In short, London is worth a visit for every coin collector. To let you know where to go, we have assembled the addresses of London's coin shops. If you know of another coin shop that is missing here, please contact us. We are currently working on a numismatic guide to all of London.
Argyle Coins
130 Old Street
London ECIV 9BD
Tel: +44 203 411 4375
ArtAncient Ltd (ADA, BNTA, CINOA, LAPADA)
31 Imperial Road
Chelsea Creek
London SW6 2FR
ATS Bullion Ltd.
2 Savoy Court
Strand
London WC2R OEZ
Tel: (0044) 0207 240 40 41
Baird&Co
24 St. Cross Street
London EC1N 8UH
Tel: +44 (0)20 7831 2838
A.H. Baldwin & Sons Ltd.
399 Strand
London WC2R OLX
Tel: +44(0)20 7930 6879
Baldwin's of St. James's
10 Charles II Street
St. James's
London SW1Y 4AA
Tel: +44(0)20 7930 7888 bzw. 7808
Beaver Coin Room (Jan Lis) (BNTA, RNS, ANS)
Beaver Hotel
57 Philbeach Gardens
London SW5 9ED
Tel: +44(0) 20 7373 4553
Bertolami Fine Arts
63 Compton Street
Apartment 2
London EC1V 0BN
The Birchin Lane Gold Coin Co
John Haynes & Co
6 Castle Court
the City EC3V 9DL
Tel: 020 7283 3981
Jon Blyth (BNTA, PCGS)
Office 63
2 Lansdowne Row
Mayfair
London W1J 6HL
Tel: +44(0) 7919 307645
Bonhams (BNTA)
Montpellier Street
London SW7 1HH
Tel: +44 (0) 20 393 3914
Arthur Bryant Coins Ltd.
PO Box 67499
London NW3 9SN
Tel: +44(0) 7768 645686
Chelsea Rare Coins
2, Fulham Road
London, SW10 9PQ
Tel: 734 433 9900
Classical Numismatic Group Inc
20 Bloomsbury Street
London WC1B 3QA
Tel: +44 (0) 20 7495 1888
Phillip Cohen Numismatics
20 Cecil Court
London WC2N 4HE
Tel: (0044) 020 73790615
The Coin Cabinet
Andreas Afeldt
24 Holborn Viaduct
International House
London EC 1A 2BN
Tel: + 44 (0) 08000 885350
Coincraft
45 Great Russell St
Bloomsbury
London WC1B3JL
Tel: (44) 020 7636 1188 bzw. (44) 020 7637 8785
Dix Noonan Webb
16 Bolton Street,
Piccadilly
London W1J8BQ
Tel: +44(0) 207 016 1700
Christopher Eimer
PO Box 352
London NW 11 7RF
Tel: +44(0) 20 8458 9933
The Gold Coin Exchange
16 Charing Cross Road
London WC2H OHR
Tel: (0044) 20 7240 0479
GoldCore Limited
No 1 Cornhill
London EC3V 3ND
Tel: +44 (0) 203 086 9200
Heritage Auctions UK (BNTA)
6 Shepherd Street
London W1J 7JE
Tel: 0044(0)2074930498
Imperial Coins
Suite 501
International House
223 Regents Street
London W1B 2QD
Knightsbridge Coins
Duke Street 43
St. James´s
London SW 1Y 6DD
Tel: +44(0) 207 930 8214
The London Mint Office
1 Carew Street
London SE5 9DF
Öffnungszeiten: Mo-Fr: 9.00-17.30
Tel: 0330 024 1001
CJ Martin Coins Ltd. And Ancient Art (ADA, BNTA, CINOA, LAPADA)
The Gallery
Trent Park Equestrian Centre
Eastpole Farm House
Bramley Road
London N14 4UW
Tel: +(0)20 8882 1509 bzw. 4359
Paul Menzies Ltd.
130 North Block
County Hall
10 Belvedere Rd.
London
Tel: +44 (0) 7764 209201
Nigel Mills (BNTA)
PO Box 53126
London E181YR
Tel: +44(0) 208504 2569
Morton & Eden Ltd.
Nash House
St George Street
London W1S 2FQ
Tel: 020 7493 5344
Narbeth, Colin, & Sons Ltd.
20 Cecil Court,
Leicester Square,
London, WC2N 4HE
Tel: 020 7379 6975
Numismatica Ars Classica
Mr. A Russo
3rd Floor
Genavco House
17 Waterloo Place
London SW17 4 AR
Physical Gold Ltd
Tower 42
5th Floor
25 Old Broad Street
London EC2N 1HN
Tel: 020 7060 9992
The Pure Gold Company
1 Royal Exchange
London EC3V 3DG
Tel: +44(0)207 060 6902
Roma Numismatics Ltd.
Mr. R Beale
20 Fitzroy Square
London W1T 6EJ
Tel: +44 (0) 20 7121 6518
Max Rutherston Ltd
5 Georgian House
10 Bury Street
St. James's
London SW1Y 6AA
Tel: +44 20 7930 0395
Simmons Gallery
PO Box 104
Leytonstone
London E 11 1ND
Tel: +44(0) 20 8989 8097
There are some stairs you have to climb before entering Sovereign Rarities; but then again, you walk through one of the world's most beautiful bookstores. Photo: UK.
The office of Sovereign Rarities. Photo: UK.
Sovereign Rarities
32 St. George Street
London W1S 2EA
Tel: +44 (0) 203 019 1185
Spink & Son Ltd.
69 Southhampton Row
Bloomsbury
London WC1BET
Tel: +44(0) 020 7563 4000
Viceroy Coins
Kemp House
152-160 City Road
London EC1V 2NX
Tel: +44 020 3815 8013
Vale Coins
21 Tranquil Vale,
Blackheath,
London SE3 0BU
Tel: 077320 48846