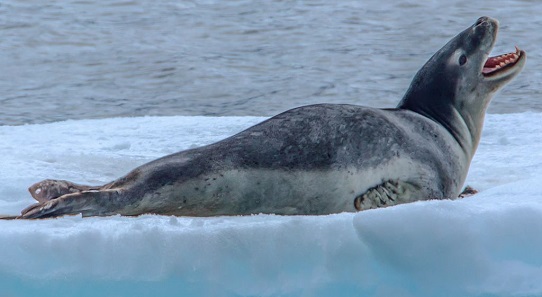 [bsa_pro_ad_space id=4]
July 5, 2018 – Pobjoy Mint continued their popular Titanium animal series of coins. Their recent version depicts the Leopard Seal – one of the world's top predators. Second only to the Killer Whale among Antarctica's top predators, the Leopard Seal is the second largest species of seal in the Antarctic. With its distinctively long and muscular body shape and its massive head and jaws, it has canine teeth which are around 2.5cm/1" in length making this a highly dangerous predator to the smaller animals that inhabit this frozen area.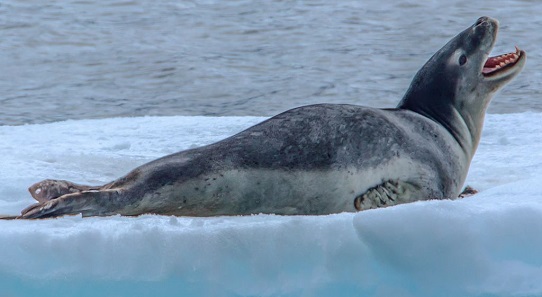 Leopard seal (Hydrurrga leptonyx). Photo: Murray Foubister / CC BY-SA 2.0
A prominent feature of the leopard seal is its counter-shaded coats with its dorsal side having a silver to dark grey blended coat that make up its distinctive "leopard" colouration. Whereas the underside is paler-ranging from white to light grey.
The Leopard seal lives in the cold waters surrounding the Antarctic continent but they are difficult to survey by traditional visual techniques as they spend long periods of time vocalising under the water during the months when the surveys are carried out.
South Georgia & South Sandwich Islands / 2 GPB / Ice grey titanium .990 / 10g / 36.10mm / Mintage: 7,500.
The design on the coin shows a Leopard Seal hunting for prey among a raft of penguins. The obverse of the coin features a fine effigy of Queen Elizabeth II produced exclusively by Pobjoy Mint. The coin is available in titanium ice grey and in cupro nickel.
If you want to know more, please visit the Pobjoy Mint website.
We also reported about Pobjoy's previous release of a titanium coin featuring the blue whale.
National Geographic presents these intriguing animals in a documentary "Leopard Seal – The King of Antartica".