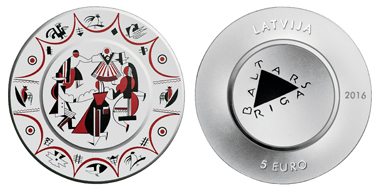 [bsa_pro_ad_space id=4]
October 13, 2016 – Latvijas Banka is issuing a 5 euro silver collector coin of a unique shape '"Baltars". Porcelain'. The coin dedicated to "Baltars", the workshop of fine china and faience painting, the pride of Latvian national culture, has been designed by reproducing the image of the plate "Dance" (Romans Suta was the author of the composition in 1927) and in the shape of a plate.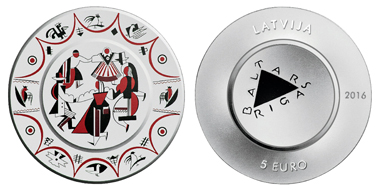 Latvia / 5 Euros / Silver .925 / 18g / 38.61 mm / Design: Franceska Kirke / Mintage: 5000.
The graphic design of the collector coin which is a miniature piece of art was created by artist Franceska Kirke, also the author of the commemorative 1 lats coin featuring a horseshoe and the collector coin "Basketball".
The coin '"Baltars". Porcelain' has been minted by 'UAB Lietuvos monet? kalykla' (Lithuania). The graphic mark of "Baltars" is depicted on one side of the coin; the other side features the reproduction of the plate "Dance" by Romans Suta (1927). The coin has been struck in the shape of a flat plate.
The "Baltars" workshop
One of the greatest art treasures in the Latvian Cultural Canon is the impressive achievements of "Baltars", the workshop where fine china was artistically painted in the 1920s. "Baltars" resulted from the idea of the Latvian painter, graphic artist and composition virtuoso Romans Suta (1896-1944) to create a cultural milieu corresponding to the era of modernism and its language of form. His intent mostly focused on interior design and applied arts where decorative ceramics was supposed to work as a peculiar accent of functionalist and constructivist aesthetics and ideology.
The masterpieces of decorative art made at "Baltars" matched the quality of the highest achievements of Art Deco and have become the pride of Latvian national culture. Latvijas Banka honours their cultural and historical significance by issuing a collector coin dedicated to "Baltars".
The collector coin '"Baltars". Porcelain' is legal tender in the Republic of Latvia, yet the release of such coins in circulation is highly unlikely, as they are in fact works of art and are in special demand among coin collectors and other interested parties. The maximum mintage of the coin is limited to 5000.
For more details on this and other releases, visit the website of Latvijas Banka.
More information on the "Baltars" workshop is available on the Latvia Cultural Canon website.
To have a look at other works of artist Franceska Kirke, please click here.
And this is the homepage of the Romans Suta and Aleksandra Belcova Museum.