[bsa_pro_ad_space id=4]
November 30, 2017 – Latvijas Banka has issued a 5 euro silver collector coin "Smith forges in the sky" dedicated to Latvian folk songs. It features some lines from a Latvian folk song and the drawings of artist Edgars Folks.
Latvia / 5 Euros / Silver .925 / 31.47g / 38.61mm / Design: Edgars Folks (graphic design) and Ligita Franckevica (plaster model) / Mintage: 4,000.
The obverse of the coin displays a bearded rider wearing an ancient Latvian hero's outfit and throwing lightning bolts all around (Thunder). The reverse of the coin features a shawl spread on the ground and silver jewellery falling from the sky.
The obverse of the coin bears an inscription "Kalejs kala debesis, ogles bira Daugava." (Smith forges in the sky, the coals burst into the Daugava), whereas the reverse features an inscription "Es paklaju villainiti, man piebira sudrabina." (I spread my shawl on the ground and collect a pile of silver).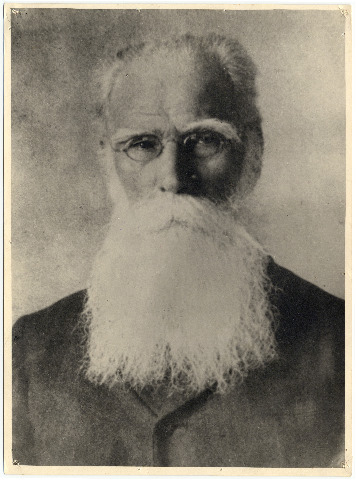 Krisjanis Barons. Photo: J. Vilcins / Wikipedia.
The drawings depict objects of nature and natural phenomena. As this is a very common motif in folk songs, this particular category of folk songs takes up quite a lot of space in Krisjanis Barons (1835-1923) Cabinet of Folk Songs, featured on the list of Registered Heritage of UNESCO's Memory of the World Programme since 2001. Thunder or the Heavenly Smith is accompanied by Sun and the daughters of Sun, Moon and an array of stars.
The Latvian name for folk songs, dainas, is borrowed from Lithuanian and has become a key word for the folk song tradition and the accomplishments of Krisjanis Barons as well as a symbol of the Latvian identity. The Cabinet of Folk Songs now forms a part of the Latvian folklore collection and is located at the Latvian National Library, while the mythical folk songs are still able to inspire and sometimes enable to look at the world almost like through the eyes of a child. There are bright and dark days in life as well as in folk songs. Silver sparks light up the world.
The collector coin "Smith forges in the sky" is legal tender in the Republic of Latvia, yet the release of such coins in circulation is highly unlikely, as they are, in fact, works of art and are in special demand among coin collectors and other interested parties. The coin was struck by Koninklijke Nederlandse Munt (the Netherlands). The maximum mintage of the coin is limited to 4,000.
For more information on this collector coin, click here.
The homepage of Latvijas Banka can be accessed here.
If you want to listen to a daina, we suggest this one and this one.
This is the entry of the Cabinet of Folk Songs in the UNESCO's Memory of the World Register.