[bsa_pro_ad_space id=4]
September 4, 2014 – The Las Vegas Numismatic Society Fall coin show is set for September 12-14 in Las Vegas at the Palace Station Hotel and Casino, 2411 W. Sahara. The 51st annual spring show drew 300 dealers and over 3000 visitors.
Bob Higgins of Argent giving an appraisal.
Saturday's Silver Dollar panel extends a great opportunity to learn from silver dollar experts and authors. Meet John Highfill, Comprehensive US Silver Dollar Encyclopedia, C Logan McKechnie, VAMView Annual Price Guide, Jeff Oxman, Carson City Morgan Dollars: Coins of the GSA Hoard and Mark Witkower, Official Guide to the 1878 Reverse of '79 Varieties.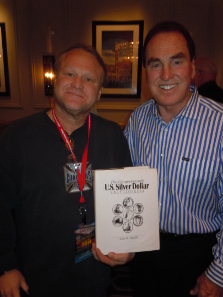 John Highfill presenting the Silver Dollar Encyclopedia to Rodney Winks at the seminar.
Highfill founded the National Silver Dollar Roundtable and has been a silver dollar specialist for over 40 years. McKechnie added over 200 silver dollar varieties and revisions to the VAM list. Oxman authored Top 100 Morgan Dollar Varieties and four other standard reference works, including the Hot 50 VAMs, the Hit List 40 VAMs. This four star panel is set for Saturday, September 13 and begins at 12:00 noon. Seating is limited.
On Saturday morning, Panda collectors will want to visit with Peter Anthony, author of the Gold and Silver Panda Coin Buyers Guide, NGC consultant and World Coin News contributor. Just back from China, he was working on his new book. According to Anthony, "The first Chinese edition of Gold and Silver Panda Coin Buyers Guide was brought to press earlier this year and is already sold out. The China Financial Press, a branch of the Chinese government in Beijing, rarely publishes the work of foreign authors." Anthony's book signings in Beijing Xi'an in Shanghai drew both public and media coverage including five photographers.
Often cited as the best source for information on Panda coins, the Gold and Silver Panda Coin Buyers Guide provides extensive population data representing more than a decade of research by Peter Anthony. Seminar begins at 10:30am on Saturday, September 13. Seating is limited.
On Friday afternoon, Lawrence Goldberg, author of What Color Are Your Assets? An Insider's Guide to Rare Coins and Precious Metals, will be conducting a Hard Asset seminar. Lawrence shares his 33 years of knowledge, insights and approach to the purchase of rare coins from a coin dealer's point of view. He teaches both the beginner and seasoned collector how to use the mechanics of financial markets to their best advantage. Come to understand this often underappreciated portable asset and learn how to build a private and liquid portfolio to create value from coins. Seminar starts at 1:00pm, Friday, September 12.
ANACS will accept submissions onsite at the show all three days.
Civil war aficionados won't want to miss a day with the Nevada Civil War Association. Members will appear in period dress at the show on Saturday for impromptu reenactments and photo opportunities, as well as exhibit civil war memorabilia.
The Las Vegas Numismatic Society coin show has been holding their annual show for over 51 years. "Pre-registered guests came from as far away as France, Australia and Canada to attend the recent spring show," related Dawn Napolitan, CK Shows. "Las Vegas Numismatic Society is an active club and passed the 200 member mark this year with 226 registered members. A record 116 members gathered for a club meeting commemorating the 150th Anniversary of Gettysburg. The subsequent volunteerism by over 25 club members each show is characteristic and plays out in many aspects of the show, including aggressive poster placement around the Las Vegas metro-plex, registration, set-up and tear-down." The Las Vegas Numismatic Society provides scholarships for Nevadan collegiate and numismatic education to the Las Vegas community.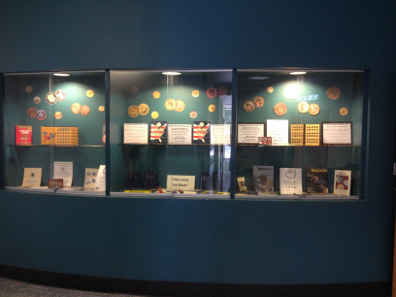 Las Vegas Numismatic Society Young Numismatist public library displays in Las Vegas.
In 2014, the LVNS Young Numismatist Program is reaching out to kids of all ages through displays which have been set up in local libraries throughout Las Vegas metropolitan area. The large displays typically encompass four showcases filled with coins, paper money, relics, medals, casino chips, reference books, and other interesting items. The goal is to encourage kids to start collecting, by showing them some of the exciting sides of numismatics. There is also a coin quiz posted, offering a reward if the correct answers are brought to a LVNS club meeting. Library displays have already drawn new young members. "After all who doesn't love money?" quipped Ed Smith, Las Vegas Numismatic Society Young Numismatist committee.
The show promoter, CK Shows has announced the addition of a third show in Las Vegas, called The Vegas Show. This new show will take place December 12-14 in a new venue, The Riviera Hotel and Casino, 2901 Las Vegas Blvd South, in association with the Las Vegas Numismatic Society. Both Las Vegas club shows will be coming to the historic Riviera in 2015, as well. "We are very excited about the new location," reveals Dawn Napolitan.
"The Riviera is perfectly located for easy access and plenty of parking for locals and positioned nicely for out of town visitors and exhibitors. We are thrilled to re-connect with the fabulous Las Vegas Strip, the roots of this Coin Town. Many people forget that, up until the early 1970's, silver dollars were still being played in slot machines. To celebrate our new partnership, the Riviera is offering us room rates from $25." Visitors and dealers may call reservations at 800-634-6753 or 702-794-9412 to take advantage of this limited room block. Use code SLVNSI4.
The 2014 fall show will still be held at the Palace Station Hotel and Casino. Dealer set-up and visiting dealer entry hours are Thursday September 12-14 from 2pm to 7pm. Dealer "Early Bird" entry is $50. Public hours are Friday and Saturday 10am to 6pm, Sunday 10am to 3pm.
Public admission is $3 for all three days. Coupon is available for download at the official event website. There is free admission for members of any coin club, seniors 65 or over, Boy Scouts or military in uniform and children 8 years old or younger.
For more details, including hotel rate, go to the event website …
… send an email …
… or call Dawn at 888-330-5188 or 800-208-1810. Future shows are scheduled for December 12-14 and March 20-22 at the Rivera Hotel and Casino.