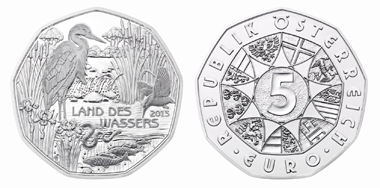 [bsa_pro_ad_space id=4]
June 13, 2013 – On June 5, 2013 the Austrian Mint will issue a coin celebrating Water, in honour of the UNESCO Year of Water Cooperation 2013.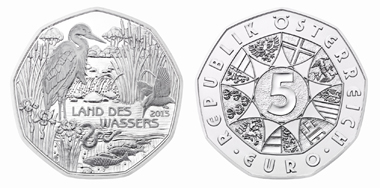 The reverse of the coin, created by the mint's chief engraver Thomas Pesendorfer, focuses life on a small pond and stream, with water gently falling over a little step into a pool where a heron surveys all the goings on. A kingfisher, a water snake and part of a school of fish can be seen in the pond. Lush cattails, and irises, all of which benefit from the sustenance supplied by water, surround the pond. In the distant background dense vegetation comes right up to the water's edge. Several trees have also been incorporated into the design's background. Also on this side of the coin is the year of issue 2013 as well as the name of the coin "Land des Wassers," or Land of Water.
The Austrian Mint by night. Photo: Contributor / http://creativecommons.org/licenses/by-sa/3.0/deed.en
Of course, Austria has an abundance of fresh water that has been used for centuries. Austria's mountains and environment have long supplied this vital requirement of life. The water of Austria has long been used to nourish its population, as well as for farming, animals, transportation, industry and of course leisure. The Austrian Mint's current location, which dates from 1834, was chosen because there was a stream nearby to help power the manufacturing process.
Water is vital to all parts of life and no one country can take on the responsibility for clean, pure water well into the future. It is a shared resource that affects all aspects of life: personal, social and economic, as well as the world around us. Therefore, in order to raise awareness UNESCO (United Nations, Educational, Scientific and Cultural Organization) has designated the year 2013 as the Year of Water Co-operation.
The obverse of the nine-sided coin is the standard 5-euro design, with the denomination encircled by the shields of the nine federal provinces of Austria. In the center is the face value of 5 euros. Mint engraver Helmut Andexlinger designed the obverse.
The 5 euro silver coin has a diameter of 28.5 mm, contains 8 grams of fine silver, a total weight of 10 grams and has a fineness of 800. The coin is available only in special uncirculated quality and will have a maximum mintage of 50,000. Each of these coins is vacuum-packed in a colorful, informative and sparkling-fresh blister pack.
The 200,000 copper coins struck by the Austrian Mint for circulation in Austria will only be available through the Austrian banking network.
For more information on this coin please visit the website of The Austrian Mint.
And don't miss to check out the UNESCO website of the International Year of Water Cooperation.